By Ken Silva pastor-teacher on Feb 24, 2014 in AM Missives, Current Issues, Features, Rick Warren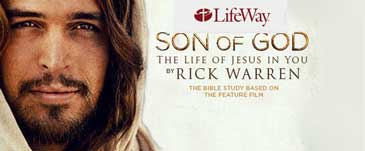 The last time the subject was related to Rick Warren here at Apprising Ministries I told you that T.D. Jakes Conference To Feature Saddleback Church Leader.
Specifically, it'll be John Cassetto, who is Global Worship Pastor at Warren's own Saddleback Church, paired up with Jamar Jones of Jakes' Potter's House.
Now you might find it interesting what Rick Warren and Lifeway, the publishing arm of the Southern Baptist Convention, have scheduled for their joint project.
In today's Baptist Standard staff report Baptist Briefs: Study materials for 'Son of God' film we're informed:
Pastor and author Rick Warren partnered with LifeWay Christian Resources to release a Bible study related to the Son of God movie from 20th Century Fox, which hits theaters Feb. 28.

The small-group curriculum resource by Warren, Son of God: The Life of Jesus in You, is a companion piece to the movie produced by husband-and-wife team Mark Burnett and Roma Downey.

The six-session study features video clips from the movie and videos from Warren explaining Jesus' teachings and their impact on people's lives. Topics include baptism, temptation, suffering, death, resurrection and ministry. (source)
Further reading