By Ken Silva pastor-teacher on Jan 15, 2014 in Current Issues, Features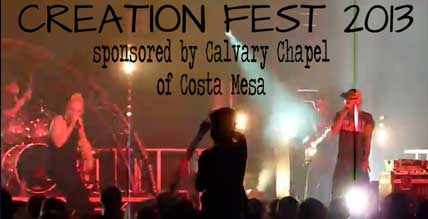 From time to time Apprising Ministries has covered issues touching on Calvary Chapel (CC) as a whole; particularly with its former leader, the late Chuck Smith.
Unfortunately, in The Coming Roman Catholic Denomination And Chuck Smith Of Calvary Chapel, as a former Roman Catholic I had to show you his increasing sinful ecumenicism.
And then on occasion I have covered events that dealt with local CC churches as I brought out in Skip Heitzig To Speak Along With Leonard Sweet Ay Calvary Of Albuquerque.
With this in mind let me point you to a short post yesterday concerning Calvary Chapel of Costa Mesa, CA (CCCM), which appeared over at the Understand the Times website of Roger Oakland.
In a short post entitled New Era of Calvary Chapel Worship we read:
Many who attended Calvary Chapel of Costa Mesa in the past under the leadership of Pastor Chuck Smith are wondering what changes to expect now that a new generation is at the helm.

The following video clip of "worship" at the Cornwall, England Creationfest in the summer of 2013 sanctioned by the new leadership of CCCM should provide a clear answer to that question. (source)
CCCM's involvement with Creation Fest (CF) is confirmed over at the Creationfest.cccm.com website:
All the Info

WHO? This trip is open for adults, college, and high school students. Must be 16 years old by July 26th to attend
Confirmed leadership:
Brian Brodersen
Jay Henry
Sarah Yardley
Scott Cunningham
Cameron Franklin

WHAT?
Come with Calvary Chapel Costa Mesa as we support one of the largest Christian outreach festivals in England.
We will be partnering with local churches and communities to put on a week long music and Bible teaching festival.
The Festival takes place at the Royal Cornwall Showgrounds in southwest England. Come with a passion for service and a heart for the lost.
MORE information at creationfest.org.uk. (source)
Ken Ham of Answers in Genesis also informs us that the leadership of CCCM have been "largely" involved with CF for a while now. Speaking of the 2012 CF Ham writes:
Yesterday, I gave two presentations lasting one and a half hours each at a special music and teaching event in Cornwall, England, called Creation Fest. It is largely sponsored by Calvary Chapel of Costa Mesa of California. (source)
The video clip below is said to be from "an incredible set by the amazing Chip Kendall and Bluetree at the Creation Fest (Wadebridge, Cornwall 2013)." Apparently, we'll witness, "Christian Rock – not for the faint-hearted." ((http://www.youtube.com/watch?v=p9EMdd6VmOw, accessed 1/15/14.))
See for yourself:
[mejsvideo src="https://www.apprising.org/wp-content/uploads/2014/01/CFest2013CCCM.mp4″ width=640 height=360]
Further reading