By Ken Silva pastor-teacher on Feb 20, 2013 in Current Issues, Features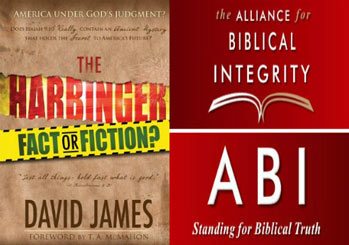 In our continuing coverage of this story Apprising Ministries has told you that Prophet Rabbi Jonathan Cahn and his book of mythology called The Harbinger (TH) have been the source of a growing friction.
We've even seen TH form some deep cracks even within the camp of online apologetics and discernment ministries as I showed you a while back in Jonathan Cahn Harbinger Of Discernment Gone Wild?
Then there's Steve Strang Of Charisma Media And Jonathan Cahn To Sue Dave James Over "The Harbinger: Fact Or Fiction?", wherein I pointed you to The ABI Report: Threatened Lawsuit by The Harbinger Publisher & Author.
Dave James, executive director of The Alliance of Biblical Integrity, would make the following known to us:
We have received letters threatening legal action related to the publication of my book The Harbinger: Fact or Fiction? These letters were from a lawyer with a firm which "serves as litigation counsel for Charisma Media, publisher of The Harbinger by Rabbi Jonathan Cahn and published by Charisma Media."

Therefore, we are asking that concerned believers everywhere make this a matter of prayer—that the Lord would graciously give us wisdom and that He would protect us in the midst of this challenge. We also believe it is important to bring this matter to the attention of the Body of Christ and would encourage you to share this article with others given the millions of people who have now been influenced by The Harbinger and its author. (source, bold his)
This would later lead to my February 11th post Charisma House And Jonathan Cahn Issue Statement Concerning David James And Possible Lawsuit; and even this statement ended up becoming a somewhat cloudy issue.
People contacted me wondering if there actually was such a statement and where they might see it. It's a common problem for the online apologetics and discernment ministry here at Apprising; critics love to doubt my work.
Even though the documentation is often in video form and screen captures I imbed in my posts, they still accuse me of taking things out of context. Then, of course, their favorite chestnut: "slander." Unfortunately, that's for the spoken word.
What these apparently uneducated critics so quick to libel me don't seem to be able to comprehend is, that's what I would possibly be guilty of—if—I went beyond my opinion of the evidence I'm presenting. In this case, that press release was sent to me personally.
It came via the contact form of my other website, Christian Research Network, and is actually right in that post referenced above. It purports to originate with Althea Thompson, Publicity Coordinator for Charisma House. ((http://www.linkedin.com/pub/althea-thompson/41/854/243, accessed 2-20-13.)) No reason to question it.
Technically, this makes me the source who initially published this. So, before this non-controversy begins to spread, today I decided to put it to bed. Around 2pm EST I called Andrea Thompson and asked her if she'd be kind enough to send me the press release.
I appreciate her prompt response; for what it's worth, here it is: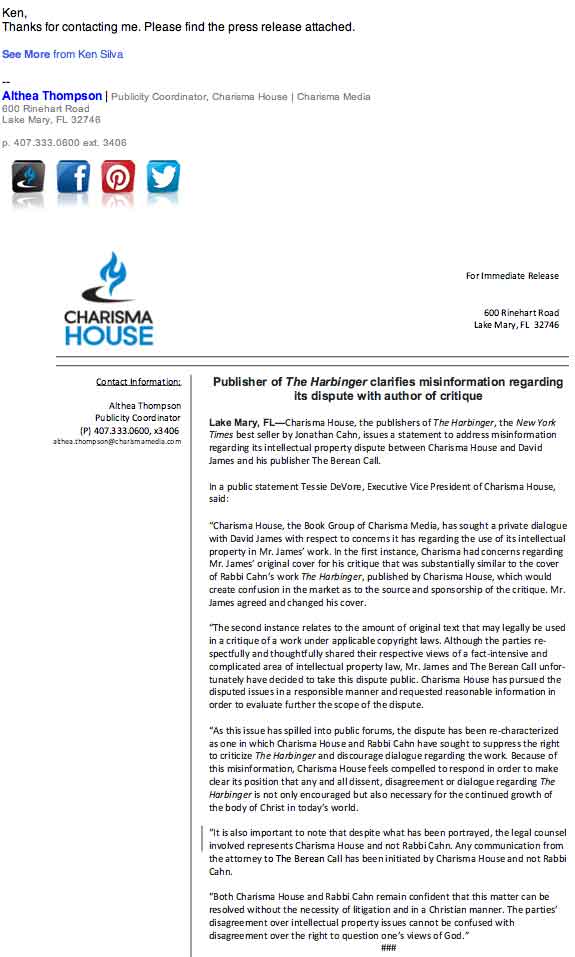 Further reading