By Ken Silva pastor-teacher on Jan 30, 2013 in AM Missives, Current Issues, Devotions, Features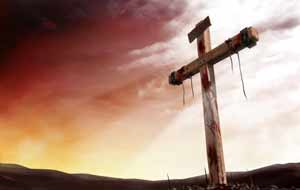 O men, how long shall my honor be turned into shame? How long will you love vain words and seek after lies? (Psalm 4:2)
God Himself Is Our Only Savior
Although you are certainly encouraged to get a second opinion, from my point of view here at Apprising Ministries along the Internet front, the prognosis for American evangelicalism is not very good at all.
Sadly, this community now allows for differing approaches to the truly indescribable and greatest sacrifice ever made upon this cursed planet, the vicarious penal substitutionary atonement on the Cross of the forever blessed Jesus Christ of Nazareth.
So, you can mark this: It's not likely the Christian Church in America will avoid coming under judgment much longer; if it's not already. We'd best prepare for the stench of sulfur in the air because God is not just going to wink while we debate about what He Himself did on the Cross.
O you see this is what is missed in our discussions; we are not talking about someone else chosen by the LORD God Almighty to pay this horrific penalty for mankind's blatant rebellion against our loving Creator. Let me suggest that we get back to actually reading the Bible instead of listening to speculations by so-called "scholars" about Holy Scripture.
Yes, Jesus is the Son of God, but the Bible also teaches that He is the eternal God come in human flesh. In all the self-congratulations of the latest "scholarly" treatises on what someone suggests might have possibly happened at the Cross, Holy Scripture tells us that the Messiah—the Savior—would be God Himself.
That we cannot fully comprehend logically how this was so, is one of things the Apostle Paul was trying to explain to us when under the direct inspiration of God the Holy Spirit he wrote:
And without controversy great is the mystery of godliness: God was manifest in the flesh, justified in the Spirit, seen of angels, preached unto the Gentiles, believed on in the world, received up into glory (1 Timothy 3:16).
Or have you not read — "For I am the Lord your God, the Holy One of Israel, your Savior" (Isaiah 43:3); and — "I, I am the LORD, and besides me there is no savior" (Isaiah 43:11. Therefore it is our Creator God Who actually sacrificed Himself for wicked rebellious creatures like us who thought He was our enemy.
I suggest you meditate on this Truth the next time you're tempted to listen to those fools in the Contemplative Spirituality movement with their man-centered lies about their own inflated self-worth. Glory to Jesus, Who — is the Christ, who is God over all, blessed forever. Amen (Romans 9:5).
Further reading