By Ken Silva pastor-teacher on Jan 18, 2013 in Current Issues, Features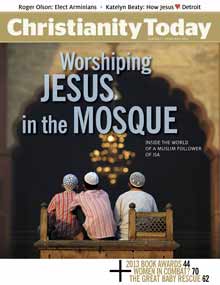 Apprising Ministries has long been one of the leading works exposing the neoliberal cult operating within the Emerging Church aka the Emergent Church and its evil effects upon evangelicalism.
One of the EC's first major assaults upon the foundations of proper Biblical Christianity was marshaled by Living Spiritual Teacher and EC guru Brian McLaren with his infamous book A Generous Orthodoxy (AGO).
However, McLaren himself stated AGO that he was basing much of his mythology upon the missionary work of Leslie Newbigin:
one of the decisive influences on the theology of mission in the twentieth century… Newbigin early emerged as a missionary statesman and ecumenical leader…

He modelled what it means to contextualise Christian witness… Lesslie Newbigin was wholly committed to God's mission of the redemption of the world. He was equally committed to the unity of the church. (source)
In other words, adding in The Wider Mercy view, much of missions—also infected by the erroneous teachings of Donald Mcgavran and C. Peter Wagner of Fuller Theological Seminary—has been seriously off for years.
Against this backdrop I now point you to Stand Up For The Truth and Worshiping Jesus In The Mosque: A Response concerning the latest issue of Christianity Today, which seems to be promoting the "Insider Movement."
The post begins with a couple of rhetorical questions: "Can one be a Buddhist, Hindu or Muslim believer of Jesus? And can they do this without persecution?" The answer is, no and not likely. We see this from the New Testament.
Next we're informed that a:
growing number of Christians and church leaders are stopping to consider that this idea may actually be possible, thanks to "Insider Movement" groups that have been pushing this idea forward for the past decade, especially in the Muslim mission field.  Now those ideas are gaining ground in the West, as Christians embrace these controversial methods.

The most recent issue of Christianity Today is giving a whole lot of print space to Insider Movement (IM) proponents, who believe that it is not necessary for believers to convert to Christianity, a term often associated with baggage and most certainly persecution if outed as "Christian."

This should immediately send you running for your Bible and asking some key questions about what Scripture has to say about the blending of two very different and opposing faiths vs a full conversion to Christianity.

"Therefore go out from (among unbelievers), and be separate from them, says the Lord, and touch no unclean thing; then I will welcome you." (2 Cor 6:17)

The January issue of CT contains the headlines, Why Evangelicals Should Be Thankful for Muslim Insiders, arguing that "Insider followers of Jesus may not have changed religions, but their lives have been changed by Christ,"  and the provocative headline Worshiping Jesus in the Mosque in which a reporter interviews a "Muslim follower of Isa."

But instead of comparing what IM-ers teach to what the Bible says and asking questions, Christians are saying, "cool!"

"Where is the outcry of pastors in America because of this? Nobody is challenging these methods, and it boggles my mind that churches subscribe to this," says Elijah Abraham, a born-again Christian who was raised a Muslim believer in Iraq, and today is the founder and executive director of Living Oasis Ministries, reaching Muslims with the Gospel.

Abraham is part of Biblical Missiology, the think-tank group that recently petitioned Wycliffe and its partners for removing familial terms like Son and Father to describe God and Jesus from Arabic Bible translations used to reach Muslim communities.

Abraham points out that John Travis (the writer of Why Evangelicals Should Be Thankful for Muslim Insiders), is one of godfathers of the Insider Movement. Abraham encourages readers to examine the IM leaders through the lens of a video highly recommends titled, Half Devil Half Child, in which even the Muslim Imams say these teachings are not Christianity… (source)
You can read the rest of this insightful article here.
Further reading