By Ken Silva pastor-teacher on Dec 18, 2012 in AM Missives, Current Issues, Features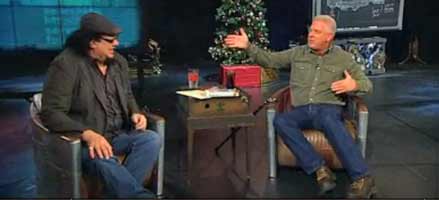 Being that Apprising Ministries is an online apologetics and discernment ministry (OADM) we generally do not involve ourselves in political issues per se. However, there are those times when these kinds of issues will cross, as is the case with popular conservative talk show host Glenn Beck.
In pieces like Jesus Defines Marriage For Red Letter Christians I've made it clear that the Christian defines marriage the way our Creator does:
And Pharisees came up to Him and tested Him by asking, "Is it lawful to divorce one's wife for any cause?" He answered, "Have you not read that He Who created them from the beginning made them male and female, and said, 'Therefore a man shall leave his father and his mother and hold fast to his wife, and the two shall become one flesh'? So they are no longer two but one flesh. What therefore God has joined together, let not man separate." (Matthew 19:3-6)
This is the inspired text of God's Word and it's patently obvious that Jesus—the Creator Himself in human flesh—has just defined marriage as a male [man] to a female [woman], which is precisely how the men to whom He was speaking understood it. For the Bible-believing Christian there is no debate.
So, it's against this background that now I point you to Glenn Beck comes out in favor of gay marriage by Denny Burk. Burk's bio informs us he's "an Associate Professor of Biblical Studies at Boyce College, the undergraduate arm of the Southern Baptist Theological Seminary in Louisville, KY." ((http://www.dennyburk.com, accessed 12-18-12.))
Burk is discussing Glenn Beck's December 6th "broadcast, [where he] hosted" the ever ebullient:
multi-media personality, magician (and proud libertarian), Penn Jillette, to discuss a myriad topics that everyday Americans can relate to. (source)
Specifically Burk is talking about the video clip at the bottom of this piece when he writes:
In the video below, Glenn Beck takes an effectively pro-gay marriage position. To put a fine point on it, Glenn Beck tells his audience that while it's okay to be personally opposed to gay marriage, conservatives shouldn't oppose gay marriage as a matter of public policy. In other words, he believes that gay marriage should be legal.

Later in the conversation, he gives his rationale. After citing his "biblical" convictions about marriage, he tells listeners that they need to remember that they are "libertarian constitutionalists first." I disagree. Christians ought to be Christians first. That doesn't mean that we ignore the Constitution.

But it does mean that our view of the common good and of public policy should be decisively shaped by what God has revealed. And God is not silent about what marriage is. (source)
This is not to be construed as an attack upon Denny Burk; I agree with him that our world view as Christians "should be decisively shaped by what God has revealed. And God is not silent about what marriage is." What I'm doing here is reminding Christians that Glenn Beck isn't a Christian.
Despite the opinions of  too many leaders of the religious right, Beck remains a baptized member in good standing with the non-Christian cult of the Church of Jesus Christ of Latter-day Saints (the Mormons). The LDS Church has another Jesus, as you can see in The "Jesus" Of Mormonism A La Glenn Beck.
Let me make this clear; America is not under some kind of divine protection. More likely, it's already under God's judgment; and if so, its "conservative" spokesmen will only continue to drift left. So, let's not be surprised then when unbelieving pagans act like…well, the children of disobedience; such as we once were:
And you were dead in the trespasses and sins in which you once walked, following the course of this world, following the prince of the power of the air, the spirit that is now at work in the sons of disobedience—among whom we all once lived in the passions of our flesh, carrying out the desires of the body and the mind, and were by nature children of wrath, like the rest of mankind.

But God, being rich in mercy, because of the great love with which he loved us, even when we were dead in our trespasses, made us alive together with Christ—by grace you have been saved—and raised us up with him and seated us with him in the heavenly places in Christ Jesus, so that in the coming ages he might show the immeasurable riches of his grace in kindness toward us in Christ Jesus.

For by grace you have been saved through faith. And this is not your own doing; it is the gift of God, not a result of works, so that no one may boast. For we are his workmanship, created in Christ Jesus for good works, which God prepared beforehand, that we should walk in them. (Ephesians 2:1-10)
Further reading