By Ken Silva pastor-teacher on Nov 27, 2012 in Current Issues, Features, Rick Warren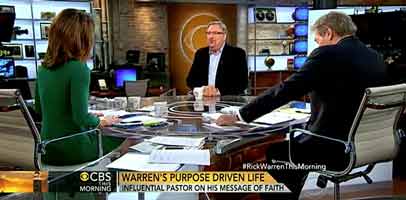 The online apologetics and discernment ministry (OADM) Apprising Ministries has warned you of the resurgence of Rick Warren ever since John Piper asked him to be a keynote speaker for the Desiring God Conference 2010. I would say that this in itself was grievous enough.
Unfortunately, Piper then made the dangerous and detrimental decision to actually pronounce the sinfully ecumenical megapastor "doctrinal and sound." So as Warren begins his media blitz again pushing his magnum opus The Purpose Driven Life he has more support backing him in Christian circles than ever before.
Despite PDL's serious and numerous doctrinal deviations, ((RICK WARREN'S PURPOSE DRIVEN PSYCHOLOGY AND HUMAN WISDOM)) this now also includes the Reformed and New Calvinist camps. Sadly, Rick Warren appears well-trained in double-speak through his years of training by Leadership Network and his "file card orthodoxy" serves him well in the public arena.
The video below from Warren's appearance today on CBS This Morning is billed by CBS as:

(source)
Here now is Rick Warren, "one of the most influential voices in American life," as Norah O'Donnell will introduce him for this mornng's CBS This Morning segment:
[mejsvideo src="https://www.apprising.org/wp-content/uploads/2012/11/WarrenCBSThis-Morn.mov" width=640 height=360]
Further reading