By Ken Silva pastor-teacher on Sep 21, 2012 in AM Missives, Current Issues, Features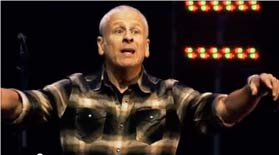 UPDATE: JESUS CULTURE—OF BETHEL CHURCH—AND PRACTICING RAISING THE DEAD
UPDATE: LOUIE GIGLIO, PASSION 2013, AND JESUS CULTURE
UPDATE: JESUS CULTURE AND JUDAH SMITH TO JOIN PIPER, MOORE, CHAN AND OTHERS AT GIGLIO'S PASSION 2013
Back in January here at Apprising Ministries in Beth Moore And John Piper Lead Lectio Divina-Lite At Passion 2012 I told you about the Passion 2012 Conference. It was a conferance hosted by Louie Giglio, pastor of Passion City Church in Atlanta.
Passion featured an interesting lineup of speakers such Francis Chan, Beth Moore and New Calvinist mentor John Piper. Not surpisingly the conference had a distinctive charismatic and even contemplative flair; e.g. prayer walking and a form of Lectio Divina (below).
A source who was there told me that after one session the crowd was urged to break into "love groups" and go out to pray and "take back the city of Atlanta." Later we'd see Beth Moore function as an elder e.g. Beth Moore Preaches Sunday Morning Service At Louie Giglio's Passion City Church.
You'll also see below from Louie Giglio himself that this idea of "hearing" from God espoused at Passion 2012 included extra-biblical direction revelation. With this in mind, Beth Moore's pretty excited for Passion 2013:
Many of you are familiar with the Passion Conferences that God has used wildly among 18-25 year-olds for well over a decade. (If you're not, see 268generation.com to learn all about it. You'll love it.) God placed the vision in the faithful hands of Louie and Shelley Giglio and they have continued a long obedience in the same direction to see God's name and renown become the desire of many hearts in the rising generations.

God has shown outlandish favor on these events and He alone knows exactly why but this is the feeling that I get every time I observe a Passion gathering: He likes it. He likes coming to it. He likes brooding over it. He likes filling it. His glory is jealously guarded and His fame is generously spread. (source)
Notice how Moore uses the charismatic quasi-contemplative appeal as to how she subjectively "feels" God thinks of these Passion conferences. As we follow the link she provides we come to the Passion website. Here's some notables in the lineup for this coming January:

(source)
Giglio, Chan, Moore and Piper return to Passion from last year and now we have sinfully ecumenical emerging musician David Crowder ((http://defendingcontending.com/2010/02/28/david-crowders-crowded-theology/)) added to the mix. In closing this, for now, I'll show you something that gives us real cause for concern in the seeming dangerous drift of Beth Moore and John Piper.
Following are clips from Session 5 of Passion 2012 where we were to enter into the silence to let God speak to us, not only through Scripture, but directly inside of us as well. However, this is language actually straight out of Contemplative Spirituality/Mysticism and its crown jewel Contemplative/Centering Prayer (CCP), which is meditation in an altered form of consciousness.
Actually, as I showed you in Sojourners Of Jim Wallis Teac hes Us Lectio Divina, Lectio Divina is done in preparation for CCP. Interestingly enough, on New Years's Eve, a few days before the aforementioned Passion 2012 the below would appear in A System for Praying in 2012 on the Desiring God website of John Piper:

I later noted in Desiring God Pulls Lectio Divina Endorsement, that after an ensuing brouhaha on the Net, shortly after Passion 2012 that section was removed from that DG post by Jonathan Parnell. He told us:
Update: Formerly I listed Lectio Divina as a third system for prayer. I've since removed it for the confusion it has caused. We do not endorse contemplative spirituality. (source)
Ok…well, now once again, at Passion 2012 Beth Moore, John Piper et al each took turns reading from the Book of Ephesians; then afterward, they each would ask for silence in the Dome and say something along the lines of: "Be still and let Jesus speak to you."
This is Beth Moore:
Now here's John Piper:
Finally, here's Louie Giglio closing out Session 5. Any doubt about what's been going on in the silence is dispelled at :20 below. To all but the most naive it will become clear to you that, contra the proper Christian spirituality of sola Scriptura, Giglio is talking about direct encounters with God in addition to Holy Scripture:
How many of you heard the voice of God speak specifically, clearly, directly, and personally, to you? Can you just put a hand up? I'd like you to share it. Can you put a hand up for a minute?

Just want you to look around; that's people saying, "God Almighty (pause) the Maker of heaven (pause) the one Who's sitting on the only throne (pause) that's not under threat (long pause, audience cheers)—He spoke to me. He spoke to me."

"God spoke to me." (long pause) Don't let the voice of the darkness, tell you that you are not (pause) worth (pause) that God would not speak to you. (pause) Don't let him tell you, you don't matter. (pause) God spoke to you.
Further reading