By Ken Silva pastor-teacher on Jul 6, 2012 in Current Issues, Features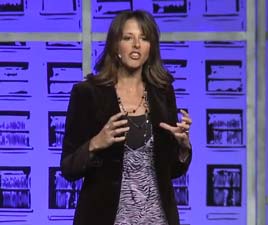 Earlier today on Apprising Ministries I published the following concerning a Word Faith pastrix, Nicole Crank Provides A Good Example Of Why God Didn't Call Women As Pastors.
My goal was twofold; 1) to further expose the whacked works of Nicole Crank and 2) to draw further attention to the issue of women pastors growing as a cancerous cyst within evangelicalism.
That malignant growth really needs to be removed; but unfortunately, women usurping the position of elders within conservative Christian churches is already way more common than many know.
A short time after my piece went online I received a direct message on Twitter from pastrix Nicole Crank, which is a private message. As I tried to respond I found I couldn't because she doesn't follow me: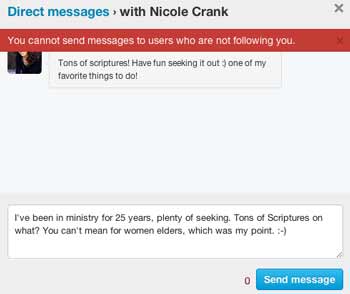 So, since she hasn't left me the option to privately direct message her back, I place my response here. I'm not really sure what she means by "tons of Scriptures!" My guess is she means verses on women pastors.
However, despite all the linguistic gymnastics people who support them go through trying to massage texts into agreeing with their erroneous position, the qualification for elders clearly concern men:
The saying is trustworthy: If anyone aspires to the office of overseer, he desires a noble task. Therefore an overseer must be above reproach, the husband of one wife, sober-minded, self-controlled, respectable, hospitable, able to teach, not a drunkard, not violent but gentle, not quarrelsome, not a lover of money.

He must manage his own household well, with all dignity keeping his children submissive, for if someone does not know how to manage his own household, how will he care for God's church? He must not be a recent convert, or he may become puffed up with conceit and fall into the condemnation of the devil.

Moreover, he must be well thought of by outsiders, so that he may not fall into disgrace, into a snare of the devil. (1 Timothy 3:1-7)
The only way someone seeking support for women pastors in Scripture finds it, is in their own imagination.
Further reading