By Ken Silva pastor-teacher on Jun 25, 2012 in Current Issues, Features, Word Faith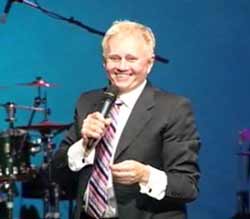 As lines continue to blur and postmodernism aids the spreads of spiritual darkness Apprising Ministries warns the state of Christendom is worse than you may know. Silly superstitions and pietism are spreading.
So is hyper-Pentecostalism a la Word Faith mogul T.D. Jakes, spiritual father to WF flake pastrix Paula White. That Jakes is her mentor is beyond question, e.g. Elephant In The Room: T.D. Jakes And Paula White.
It still amazes me that more people don't put this together: If T.D. Jakes is spiritual father and mentor to pastrix Paula White, then her spiritually whacked WF doctrine is a direct testimony back to what Jakes teaches.
You can't give him a pass into the mainstream without bringing White et al in as well. That's why stories like this have now become relevant. Charisma News tells us today Bishop Randy White Returns to Without Walls Church:
White will serve as the overseer for the Tampa, Fla., and Lakeland, Fla., campuses of the church he started with his ex-wife, Paula, in 1990.

"I am so thrilled to be back at Without Walls International Church," White wrote in an email newsletter to the congregation. "God has done a wonderful work in my life. He is the God of Restoration!!" (source)
Yes, God is; however, repentance is involved prior to restoration. We've not seen this fro Randy White. He's still claiming direct revelations from God, spewing property heresy and promoting other false teachers as well.
For example see Pastrix Dayna Muldoon Meets Pastor Scott Rodriguez of Calvary Chapel. CN reporter Jennifer LeClaire continues revealing more murky details concerning the Whites:
White resigned from Without Walls and handed the church over to Paula White in June 2009, citing ongoing health issues. Paula recently accepted the senior pastor position at New Destiny Christian Center in Apopka, Fla., which was founded by the late Zachery Tims and his then-wife Riva.

It is unclear if Paula will continue serving at Without Walls. However, Paula's name is not currently listed on the staff directory. (source)
Is she, or isn't she pastrix of Without Walls; perhaps only her hairdresser knows. In any event, T.d. Jakes' charge is still pastrix of New Destiny Christian Center. "Bishop" (aren't they all doctors and bishops) White is excited:
"I believe in Without Walls, and I know that God's hand is upon this great church," White wrote. "Let's fight and take back the city of Tampa for Jesus! Together, we CAN DO THIS!"

White also informed Without Walls via his Facebook page that "I am now going to be the overseer Bishop of Tampa and Lakeland." (source)
No, White isn't taking anything back, save for the seed offerings sowed into Without Walls to finance his mythology. Here's "Bishop" White in action today trying to work up a a rather sparse crowd prior to fleecing them:
[mejsvideo src="https://www.apprising.org/wp-content/uploads/2012/06/RWhite-Fleece.mp4″ width=640 height=360]
Further reading