By Ken Silva pastor-teacher on Jun 20, 2012 in Current Issues, Features, Rick Warren
Earlier today in Rick Warren On Casting Pearls Before Twitter Swine here at Apprising Ministries I shared an email I'd been forwarded. It certainly appeared to be from sinfully ecumenical Southern Baptist megapastor Rick Warren to his own Saddleback Church staff.
Within the email Warren tells them who they follow on Twitter is a witness and to be careful:
WHO YOU FOLLOW ON TWITTER OR FACEBOOK 

IS A WITNESS TO OTHERS,

…

HERE'S WHAT I WANT YOU TO DO:

            Go through your follow list.  Unfollow any anti-Christian, anti-Saddleback, or vulgar/sexual accounts that got automatically added.

 

            If you don't know the difference, I can start sending you the names of accounts that your account is following that is a poor witness…

There are some people you should NOT follow AND there are some people you should Block

  Study the "do not follow" commands in the Bible.

"Don't cast your pearls before swine. Do not give what is holy to dogs" –Jesus

"Do not follow a fool"  "Do not follow an angry man"   "Do not follow the crowd"

"Do not allow your good to be spoken evil of"
As an example of such Warren used the below:

Quite obviously, anyone who follows John knows he hardly fits that bill. At the same time, there were those who had questioned whether the email really was from Rick Warren.
Well, Warren has now left no doubt that this email referenced above was from him as he defends it here: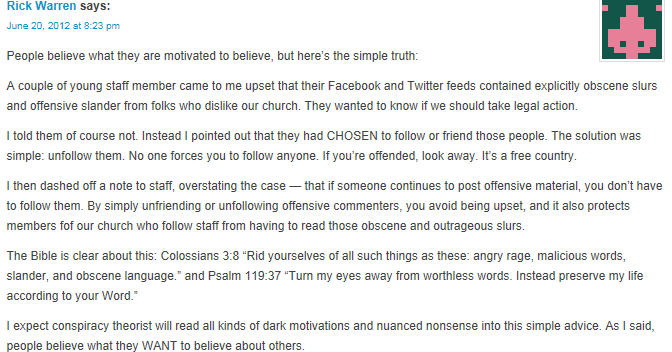 (source)
Further reading