By Ken Silva pastor-teacher on Jun 19, 2012 in Current Issues, Features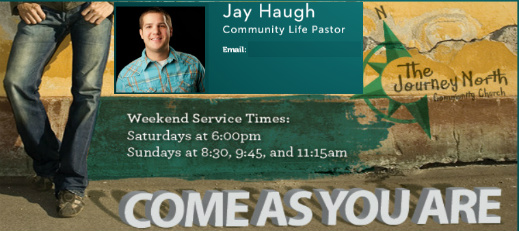 I've pointed out many times now that as a general rule, and a courtesy, we do not publish email here without the permission of the sender. For example, The Demonic Vision Of Beth Moore on June 6, 2012.
At the same time, all email sent to AM and Christian Research Network is considered the property of Apprising Ministries so I've also said all along that we may indeed publish unsolicited email for the purposes of edification.
Such is the case here. I have also chosen to reveal its author is Jay Haugh because he happens to be Community Life Pastor at The Journey North Community Church of Brainerd, MN, where Mark Bjorlo is lead pastor.
JNCC tells us under Our Vision about it's:
Purpose: To bring glory to God as we seek to live out the Great Commission and the Great Commandment. We are a Purpose Driven Church: Purpose Driven is a biblically-based church health model…

Purpose Driven provides a simple, effective strategy and the necessary tools to bring these biblical purposes into balance. (source)
So, even though quite small by this standard, here is a Seeker Driven/attractional megachurch model as evidenced by their telling us many of the 700 or so each weekend "have decided to make Jesus Christ their life leader."1
If you didn't know, this is the new SD attractional term in order to avoid using the word Lord. Now below is JNCC's community life pastor Jay Haugh's email followed by my response:
On Jun 19, 2012, at 3:07 PM, World Wide Web Owner wrote:
From: Jay Haugh

Subject: "Apprising Ministries" Really?

Message Body:
I stumbled across your website and I laughed…but at the same time I was a little saddened (and if I am honest a little angry) by the title of your website.

Do you realize that sounds incredibly arrogant? It appears to be claiming that you are the gatekeeper of truth. You know what's right and where others have strayed. Even as I write this I'm curious on how your response will be (I have some ideas on how I'll be apprised).

I'm no one special, just a Christ follower who found it amusing that your spiritual gift seems to be exposing errors. I hope you're as zealous at winning people to Jesus as you are about Apprising Ministries.

—
This mail is sent via contact form on Apprising Ministries https://www.apprising.org/
Hello Jay,

Thank you for contacting Apprising Ministries. Please know that I did not take offense concerning your email below despite what strikes me as a mildly mocking tone on your part.

I'm responding in the tone of two people talking about issues over coffee. I just put all of this up front due to the coldness of the written language, which lacks the ability to distinguish inflections, etc.

Below you wondered: "Really…I stumbled across your website and I laughed….the title of your website…appears to be claiming that you are the gatekeeper of truth." No; not really. Apprising is a word that has to do with making people aware; to give notice.

I'd say that comprises a lot of what I do for the Lord here. There's really nothing at all arrogant about that because, in line with a journalist, I simply cite sources where applicable, screen capture the evidence, etc. I'm largely just exposing what's already there.

You said you: "found it amusing that your spiritual gift seems to be exposing errors." Well, to each his own re. humor. Your problem is, I've never specifically claimed that my spiritual gift is exposing error. That noted, it is part of my job as one of Jesus' pastors (cf. 2 Timothy 4:2).

Finally, you offer: "I hope you're as zealous at winning people to Jesus as you are about Apprising Ministries." Jay, this is actually the logical fallacy of the false dilemma; these are not mutually exclusive. In addition, Apprising is but a part of the ministries I'm involved in.

I hope this alleviates your concerns and may God open your eyes that you may recognize the time in which you live.

Sincerely,

Ken Silva, pastor-teacher

President
Apprising Ministries
Ezekiel 3:7-14

Gen. Ed.
Christian Research Network
2 Corinthians 11:12-15
Further reading
Endnotes
http://thejourneynorth.com/#/about-us/who-we-are, accessed 6/19/12. ↩