By Ken Silva pastor-teacher on May 23, 2012 in AM Missives, Current Issues, Features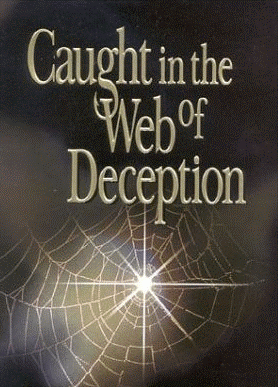 Beloved, although I was very eager to write to you about our common salvation, I found it necessary to write appealing to you to contend for the faith that was once for all delivered to the saints.
For certain people have crept in unnoticed who long ago were designated for this condemnation, ungodly people, who pervert the grace of our God into sensuality and deny our only Master and Lord, Jesus Christ. (Jude 3-4)
Spiritual Judgment And The End Of God's Patience
Years ago Charles Spurgeon said: "We can learn nothing of the Gospel except by feeling its truths. There are some sciences that may be learned by the head, but the science of Christ crucified can only be learned by the heart." A few years back I wrote an article entitled Emerging With The Spiritual Side Of Christianity, which is a reminder that no matter how intellectual any of us are, in the end the Christian faith is still a spiritual relationship with God Himself.
The Bible clearly tells us that God is Spirit, and not a spirit as the King James Version reads; therefore those who worship Him must worship Him in spirit and in truth (John 4:24). My point being that, although this is a bit mysterious—it's been referred to correctly as the mystical union of the believer in Christ—there is no escape from the fact that to be a Christian is to become involved in another world, this one spiritual. The neo-liberal cult operating within the Emerging Church aka the Emergent Church has erected a straw man to pretend that those of us who hold to sola Scriptura aren't aware of this; but no one credible is saying anything otherwise.
Apprising Ministries has been alerting you that we are seeing an increase of deceptions entering the Christian community; and the reason for that is actually tied to 1 Peter 4:17 — For it is time for judgment to begin at the household of God; and if it begins with us, what will be the outcome for those who do not obey the gospel of God? Now, I'm not pulling a Harold Camping and saying that this is the final judgment; nor am I saying that the Lord is necessarily coming in our lifetime. What I am attempting to do is draw attention to a secondary principle that's found in this verse, which is when God tires of mankind's foolishness in a given generation, He will first begin to deal with His own remnant—or specifically to this verse—His Church.
As you come to understand this you'll see what's happening in the visible Christian church. The Lord is allowing the rapid acceleration of spiritual blindness and such spiritual deceptions as the Purpose Driven/Seeker Drivenism a la Rick Warren , the judgment-less Love Wins mythology of former Emerging Church icon Rob Bell, and the growing acceptance of the Word Faith heresy of smiling Joel Osteen; by doing so, He is challenging us to actually live up to our most cherished beliefs through these combined forces of The Ecumenical Church Of Deceit (ECoD).
By allowing this ECoD and its own critical thinking skills-numbing Contemplative Spirituality/Mysticism to gain strength the Lord is forcing an evangelicalism steeped in the humanism she never really renounced to come to grips with the spiritual side of the Christian faith. I'm not going to hash out dispensationalism, cessationism, Calvinism, Arminianism etc. at this point; what I am trying to do here is to let you know that we had best come to grips with a good working knowledge of these kinds of issues because Satan's forces are doing their best right now to try and drive his wedge of division and confusion into the very remnant of God itself.
I must tell you that at the present time he is winning the battle spiritually and his ECoD has been doing a fantastic job of undoing the Reformation within evangelicalism. Can we really not see that this ECoD is a dutiful daughter who's been very busy tying to draw spiritually obtuse Christians right back to apostate Roman Catholicism and the Church of Rome, her man-pleasing mother? These are the new Pharisees of Roman Catholic self-righteous religion who have simply recreated their own form of Judaism all over again. Do you possibly think all of this interest in Contemplative/Centering Prayer, which originated within the monastic system of the Rome—has come about by accident?
And A Sad Pattern Again Comes Emerging
Maybe we might look at it this way. Consider the sad pattern of mankind's relationship with his Creator from Adam, who actually walked with Him in the garden, to God's own chosen people Israel not even recognizing Him when Jesus Christ—the LORD God Almighty in human flesh—stepped upon His planet. Man is given the privilege of knowing His loving and merciful Creator, but then through his own sin and rebellion, he always ends up abusing that relationship until he no longer even recognizes Him anymore. Now let's move ahead into the Age of Grace; our Great God and Savior Himself establishes His Church and then graciously comes to actually dwell within us.
However, by 1517 His visible Christian church is so corrupt, and has turned so far away from Him, that God has to send His Reformers to return the Body of Christ back to the things the Lord has already taught us in His Word the Bible. William Webster is dead-on-target when he says:
The Reformation was responsible for restoring to the Church the principle of sola Scriptura, a principle which had been operative within the Church from the very beginning of the post apostolic age. Initially the apostles taught orally but with the close of the apostolic age all special revelation that God wanted preserved for man was codified in the written Scriptures.

Sola Scriptura is the teaching and belief that there is only one special revelation from God that man possesses today, the written Scriptures or the Bible, and that consequently the Scriptures are materially sufficient and are by their very nature as being inspired by God the ultimate authority for the Church. (Online source)
How far the mainstream of the largely pretending to be Protestant evangelical community has drifted. If you will honestly take a look at what God has revealed to us prophetically concerning what is going to happen to this world before Christ returns, you will see that once again mankind will push Him right out of his life; and even now Purpose Driven/Seeker Driven and Emergent pseudo-Christians are engaged in shoving the Lord right out of His own church visible. We need only turn to Revelation 3:20 to shed some prophetic light upon this. Although it's often quoted in its secondary meaning to unbelievers, this truth is that the passage from which it is taken is actually speaking to a church, or at least people who would profess to be Christians:
"Behold, I stand at the door and knock. If anyone hears my voice and opens the door, I will come in to him and eat with him, and he with me."
So we see an interesting pattern come emerging from Genesis to Malachi; even among those who considered themselves God's chosen people because of their birth, they end up completely forgetting Who their Creator is by the time Christ comes into the world He created. And then as we move into the Age of Grace, from the Matthew to Revelation, could it be that we are seeing this same pattern come emerging once again by the time we reach chapter 3 of Revelation? I would say this is good cause for one to take heed of the Biblical admonition of 2 Corinthians 13:5 — Examine yourselves, to see whether you are in the faith. Test yourselves. Or do you not realize this about yourselves, that Jesus Christ is in you?—unless indeed you fail to meet the test!
If John the Baptist were here, in a style that would no doubt be frowned upon by today's focused on the self Christianity, I believe he'd be saying to these leaders in the ECoD of new and postevangelicalism, as well as to their apostate brethren in the Church of Rome:
"You brood of vipers! Who warned you to flee from the wrath to come? Bear fruits in keeping with repentance. And do not begin to say to yourselves, 'We have Abraham as our father.' For I tell you, God is able from these stones to raise up children for Abraham. Even now the axe is laid to the root of the trees. Every tree therefore that does not bear good fruit is cut down and thrown into the fire." (Luke 3:7-9)
Since God cannot change, the spiritually mature should see that the point is still the same: It's one thing to say you belong to God, but it's quite another to have the life to back it up. You don't think that the Pharisees had any good works; of course they did, but they loved the approval of men, just the same as Rick Warren and Rob Bell and Joel Osteen and Pope Benedict XVI seem to today. I exhort you, don't be fooled by deluded deceivers any longer because this is what the Lord says to those who are:
"'But I have a few things against you: you have some there who hold the teaching of Balaam, who taught Balak to put a stumbling block before the sons of Israel, so that they might eat food sacrificed to idols and practice sexual immorality. So also you have some who hold the teaching of the Nicolaitans.

Therefore repent. If not, I will come to you soon and war against them with the sword of my mouth. He who has an ear, let him hear what the Spirit says to the churches. To the one who conquers I will give some of the hidden manna, and I will give him a white stone, with a new name written on the stone that no one knows except the one who receives it.'"
(Revelation 2:14-17)
See also:
MAN-CENTERED METHODS OF RICK WARREN A LA ROBERT SCHULLER
POSTMODERN MYTH AND SOME HOMEBREWED ROB BELL