By Ken Silva pastor-teacher on Apr 3, 2012 in Current Issues, Features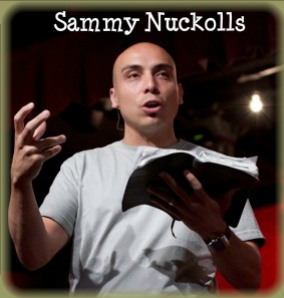 As apostasy increases Apprising Ministries functions with other soldiers against error in the mission field of online apologetics and discernment along the Internet Front of this Truth War.
Sadly, stories like this are on the increase. Though once confined to churches more on the fringe, as you might recall from my earlier coverage, this one got as close as the SBC's Lifeway Fuge Camps.
Now if you didn't know, this past October that I pointed you to a Blytheville Courier News report concerning Sammy Nuckolls, which was called Mississippi man accused of video voyeurism.
There we would learn:
The Gosnell Police Department recently made an arrest in a case of video voyeurism. On Tuesday, Oct. 25, the GPD was contacted by the victim, who lives in Gosnell.

She told officers she had discovered evidence of having been videotaped by a hidden camera in her home, allegedly placed there by Sam Allen Nuckolls of Olive Branch, Miss., who was a houseguest of the victim and her husband. (Online source)
Then in his Olive Branch evangelist charged with video voyeurism Jason Miles of WMCTV added at the time that:
Neighbors in Olive Branch were shocked to learn a traveling preacher was charged with using a hidden camera in a writing pen to peep on a woman. Traveling evangelist Sammy Nuckolls lives in Olive Branch.  We was charged with secretly recording a woman in a bathroom.

The incident happened in Gosnell, Arkansas.  Nuckolls was reportedly participating in a church revival and staying at the home of a local family.  That is where he is accused of recording the woman of the house taking a shower.

Police said Nuckolls used a spy camera hidden in a pen.  The pen also contains a flash drive inside.

Police said the alleged victim noticed the pen in the bathroom.  She later plugged it into a computer and discovered she had been recorded.

Nuckolls was charged with video voyeurism after police said he admitted to the crime, as well as previously recording two other women in Mississippi. (Online source)
Today we find out this was apparently not an isolated incident. Christina Rosales of DallasNews.com reports in Traveling evangelist who spoke at Southlake church accused of filming women undressing:
A Mississippi-based traveling evangelist who spoke to several Texas youth groups has been accused of secretly filming women — as young as 17 — undressing in bathrooms, reports the Fort Worth Star-Telegram.

Samuel Nuckolls was indicted in Mississippi on 13 counts of video voyeurism in February, according to the Star-Telegram. Authorities in DeSoto County, Miss. say Nuckolls filmed as many as 18 women.

Police in Texas and Arkansas told the Star-Telegram that they will also be pursuing charges. One of the churches Nuckolls preached at was in Southlake.

In Arkansas, the wife of a youth minister whom Nuckolls was staying with told the Gosnell police chief that she found a pen camera with a flash drive in her bathroom. When the woman looked to see what was on it, it was her, getting undressed.

A spokesman at Gateway Church in Southlake, told the Star-Telegram that Nuckolls had spoken to youth at the church about six times over three years. A few months ago, after officials at the church learned of the allegations three or four months ago, they and local law enforcement found no evidence of improprieties, the spokesman said.

Nuckolls had passed a required background check, church officials said. Nuckolls admitted to Mississippi police that he had made several videos. According to authorities, all the women identified in Mississippi were under the age of 26. Each of the 13 Mississippi counts carries a maximum sentence of five years and is a registrable sex offense. (Online source)
See also:
LIFEWAY STATEMENT REGARDING PEEPING PASTOR SAM NUCKOLLS
JACKSONVILLE BEREAN BAPTIST "PEEPING PASTOR" SECRETLY VIDEOTAPED GIRLS CHANGING