By Ken Silva pastor-teacher on Mar 19, 2012 in Current Issues, Emergence Christianity, Emergent Church, Features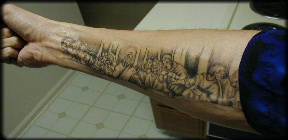 Apprising Ministries has long been covering and documenting The Falling Away Of The Evangelical Church. Contrary to the many false prophets littering the landscape saying, 'Peace, peace,' where there is no peace (cf. Jeremiah 6:14).
One of the main contributing factors in the weakness of the church visible is the warped and toxic teachings of the sinfully ecumenical neo-liberal cult of the Emergent Church aka the Emerging Church, which tragically, mainstream evangelicalism chose to embrace rather than purge from its ranks.
I've told you before that when evangelical churches made the ill-fated choice to use the mythology of dreamers like EC universalist Doug Pagitt and Dr. Tony Jones, his equally heretical progressive/liberal "theologian in residence," they would cripple their own younger sectors.
The Emerging Church circa 1997 was launched by the Church Growth Movement cancer Leadership Network with the aforementioned Pagitt gathering the initial perpetrators of this counterfeit form of the Christian faith. You should also know that corrupt Contemplative Spirituality/Mysticism (CSM) was a core doctrine of the EC.
According to my source, who was there in the very beginning, "the two most influential voices" during that time "were Mark Driscoll and Chris Seay." You probably know that the indecorous Mark Driscoll has since gone on to become a leader within the New charismatic/contemplative Calvinist movement.
Driscoll has also sent shock waves throughout his own Acts 29 Network by giving a pass to heretical Word Faith prosperity preacher T.D. Jakes and embracing him as a Christian brother in Elephant Room II. Chris Seay has remained under the radar as pastor of the emerging Ecclesia Church in Houston.
Ecclesia Church bills itself as Houston's "Holistic Missional Christian Community called to serve Jesus, our Liberating King," which gives you an idea they're involved at some level with the EC's circus "big tent" Progressive Christianity aka Emergence Christianity; i.e. the Love Wins mythology ala Rob Bell.
I've also been warning you that the spread of CSM throughout contemporary evangelicalism is leading to a cross pollination—syncretism—bringing together people in the mainstream of the visible church whom we probably would not have thought possible before, e.g. Steven Furtick, James MacDonald, And Joel Osteen.
With this in mind I point you to Her.meneutics, which is "the Christianity Today blog for women," and their recent My Church's Lenten Challenge: Get a Tattoo by Cameron Dezen Hammon. If you don't know, Hammon is a worship pastrix at that aforementioned Ecclesia emerging church.
She begins by telling us about something said by Emergent author Lauren Winner, "There are some things one can only believe singing." O-kay… Hammon continues:
As a worship leader, I found that the idea took root with me… The phrase came to me again last month when my friend, artist Scott Erickson, told me about his Lenten-theme project for the congregation we serve, Ecclesia Church in Houston.

He had designed a series of 10 tattoos representing the 14 traditional Stations of the Cross, and was asking volunteers to tattoo them to their bodies, as a way of observing the 40 days leading up to Good Friday. Ecclesia is not a typical church… (Online source)
No,  in a Protestant evangelical sense, it sure isn't. However, it is pretty much your typical postmodern people-pleasing emerging church. By the way, another by-product of CSM is a return to superstitions ala apostate Roman Catholicism; not really surprising considering CSM was developed in Rome's antibiblical monastic traditions.
Let's take a look now at what Emergent pastrix Hammon tells us her senior pastor seems rather proud of:
Not only do we have an "artist-in-residence," the aforementioned Scott Erickson, but about half the congregation is already tattooed, says pastor Chris Seay. This year, instead of the annual Lenten art show, the inked congregants would become the Stations of the Cross, and stand in the gallery spaces where paintings or photographs would normally appear. (Online source)
Then finally pastrix Hammonds informs us:
Ecclesia's Erickson and Seay came up with the idea of tattooing the Stations of the Cross as a way of visualizing the suffering of Christ, and even entering into it (tattoos come with a little bit of pain), before celebrating the Easter Resurrection.

Tattoos are one way of marking the journey of Christ—"Jesus Accepts His Cross," "Jesus Meets His Mother," "Jesus Is Laid in the Tomb"—on our arms, legs, torsos, and backs as a way of believing in these events and their power. Just like Winner said of singing, there are some things one can only believe tattooed on skin. (Online source)
Really; if this is really so, then I can't help but wonder why the Holy Spirit instead decided to use words in the Bible in the proclamation of God's Word. Seriously, if you're involved with dreamers like this, you need to turn away from them because they're only leading you right back into religious superstition and slavery.
See also:
THE EMERGING CHURCH PUSHING FOR WOMEN PASTORS
RICHARD FOSTER'S RENOVARE PROMOTING EMERGING HERETIC TONY JONES
THE NEW CHRISTIANS WITH CHRISTIANITY WORTH BELIEVING—NO SOLA SCRIPTURA: YES, WOMEN PASTORS AND QUEER CHRISTIANS