By Ken Silva pastor-teacher on Mar 14, 2012 in Current Issues, Features, Rick Warren, Southern Baptist Convention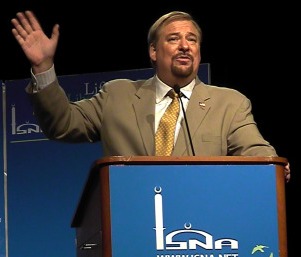 Apprising Minsitries continues our coverage of what's becoming Kings Way-gate. Unfortunately, leading Southern Baptist pastor Rick Warren seems to be sounding more like SBC politician Bill Clinton than a Christian pastor.
If you're not up on all of the background I refer you to Rick Warren Says No King's Way Document And No Saddleback "Staff" Involved. There I showed you that Warren denies the conclusions Jim Hinch drew in his initial Orange County Register report on an alleged King's Way document.
Today in OC Weekly Muslim Yasmin Nouh asks an interesting question: Why Does Rick Warren Need to Defend His Interfaith Efforts with Muslims? However, I think the more important question would be: Why Does Rick Warren Seemingly Need To Try And Coverup His Interfaith Efforts With Muslims?
Below is what Rick Warren said to his Saddleback Church this past Saturday about the Kings Way presentation discussed by veteran freelance reporter Jim Hinch in his Rick Warren builds bridge to Muslims. Our interest here is the highlighted section and Warren's explanation: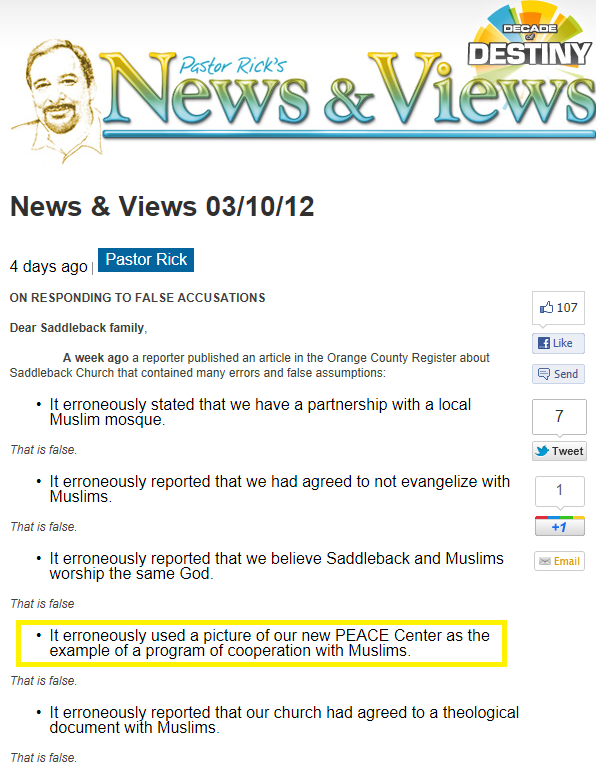 The problem we often have with Rick Warren is the way he phrases things; for whatever reason, it usually ends up in obfuscation. What we've said is that this King's Way presentation was held at Saddleback Church; and the picture below proves Jim Hinch was correct: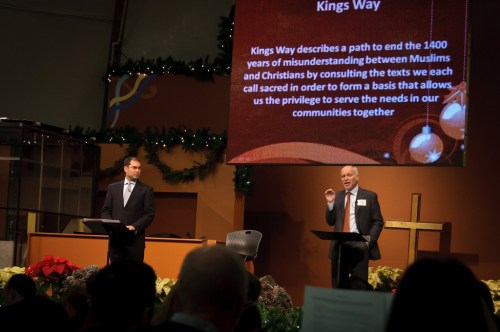 The actual evidence clearly shows this King Way was much more than a Bible study started by a mere "member" of Saddleback. This truth is, this was a presentation at Saddleback Church led jointly by Jihad Turk, pictured above on the left and Abraham Meulenberg, on the right.
For the record, Jihad Turk is Director of Religious Affairs for the Islamic Center of Southern California as well as:
Abraham Meulenberg, appears to be a bit of a murky character; but his Twitter account informs us he's "pastor, leading Interfaith Initiatives" at Saddleback Church:
Aspree of Stand Up For The Truth also asks a key question concerning interfaith pastor Abraham Meulenberg: Why is a Saddleback pastor teaching on the Kingdom Circles? Amy offers:
With all the buzz about the interfaith aspect of Saddleback Church's P.E.A.C.E. Plan and the controversy over the King's Way initiative that partners Rick Warren's church together with the Islamic community, many question just how Saddleback is reaching Muslims after promising not to convert anyone to Christianity…

In "The Mission" workshop, which was part of an International Ecumenical Fellowship, Saddleback Pastor Abraham Meulenberg and his wife Marieke spoke to a small group of attendees.

If you'll notice the diagram behind him, the Kingdom Circles are part of the session…
(Online source)
As you can see from the video, the ambiguous question being asked is: How can Christians and Muslims both move into the Kingdom of God and find the straight path to God? Well, what is meant by "move into" the Kingdom? The Christian is already in the Kingdom through faith in Christ; but the faithful Muslim is not.
It's time to look into what's been going on with Rick Warren and "interfaith" outreaches from Saddleback Church.
See also:
APPRISING MINISTRIES EXCLUSIVE ON RICK WARREN, JIM HINCH, AND ISLAM
RICK WARREN AND TEACHINGS OF DEMONS