By Ken Silva pastor-teacher on Jan 30, 2012 in Current Issues, Features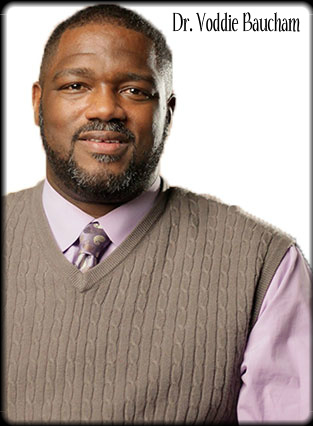 I was really hoping here at Apprising Ministries to leave alone for a while the Elephant Room 2, which I refer to as bromance ER2.
Because, well, that's what it appears to be to me. It's my personal opinion that the multi-site megachurch pastors in ER2 must have huge technology bills.
In other words, they need money; so as I see it, it would really be a help from their point of view to add in some prosperity-type preaching—pump the tithe/seed offering teaching—and emphasize narcigesis in more self-help oriented sermons. You know, like we witnessed with ER2 Prophet-Führer Steven Furtick and his Code Orange De-vival.
Those of us who saw the introduction Steven Furtick: T.D. Jakes Is My Favorite Preacher In The World and then witnessed the reactions to the performance of Word Faith prosperity preacher T.D. Jakes at Furtick's CO could tell that he was going to get a pass in ER2.
Again, looking at it through the theory of the case I just outlined, Jakes is the best in the business at using such methodology. After-all, he's already said, Jesus is the product:
However, this gamble by James MacDonald et al in ER2 is only now beginning to see more fall-out. MacDonald's refusal to disinvite Jakes was a major cause of his resignation from The Gospel Coalition as you'll see in my earlier AM piece There's More To The Resignation Of James MacDonald From Gospel Coalition.
Then today in Elephant Room 2 claims first Acts 29 casualty Apprising Ministries special correspondent Daniel Neades draws our attention to:
Chad Vegas, lead pastor of Sovereign Grace Church of Bakersfield, [who] speaks out on why he left Acts 29, a church-planting network founded by Mark Driscoll… (Online source)
Against this backdrop, you may also recall that Voddie Bauchan's Scheduled Appearance At Harvest Bible Chapel Men's Conference Canceled Due To "Differences Regarding ER2″. There AM correspondent Erin Benziger reported:
Voddie Baucham, pastor at Grace Family Baptist Church, is known for his clear exposition and teaching of Scripture and for his no-nonsense way of preaching the truth…

In the midst of the T.D. Jakes "Is he a Trinitarian or not?" controversy, an interesting revelation was noted earlier this week on Baucham's Facebook page…

There's two points of interest here. First, it is commendable and important to note that Baucham was actually invited to participate in this year's Elephant Room 2, but rejected the invitation because of T.D. Jakes.Well done, sir, thank you for standing firmly upon the truth of the Word of God.

The second interesting point is found in Baucham's response to a request for more thoughts regarding Jakes. He clearly notes that Jakes "dodged the question," and was allowed by Driscoll and MacDonald to "use modalist language."… (Online source)
Well, now Baucham has published even more details about the situation as a whole in his post The Elephant in the Room. Baucham begins with background concerning ER2 and "the decision to invite Bishop T.D. Jakes to participate in the event."
He then correctly brings out that:
The central questions in the debate are 1) whether or not Bishop Jakes holds to the historic, orthodox doctrine of the Trinity, 2) whether it was appropriate to invite (and feature) him without first having clarified his position on this cardinal doctrine, and 3) whether he cleared up the matter. (Online source)
Baucham reminds us he "was scheduled to speak at Harvest Bible Chapel on the weekend following ER2" and this would then raise:
significant questions about my stance on the matter.  While I do not consider it my responsibility to comment on every controversy, I do recognize my duty to clarify matters with which I am involved directly, and/or those that impact the congregation I am called to shepherd.  Hence, my explanation now. (Online source)
You may not have known but Voddie Baucham himself "was invited to participate in The Elephant Room 2″ after Mark Dever backed out; but to his credit would decline the invitation. Baucham continues:
James MacDonald called me and asked me to take his place.  He also informed me of the controversy at that time surrounding the invitation to Jakes and Dever's decision to pull out, and that Crawford Loritts had agreed to fill in.  I knew James MacDonald only indirectly, and I had only recently heard of the Elephant Room.

Initially, it sounded like a very good idea to "pin Jakes down" on the Trinity.  My area of emphasis in my theological training is Evangelism/Apologetics.  Moreover, I addressed Jakes's modalism in my first book in 2004, so I am well aware of the issues in question, and believed I could make a contribution.

Also,  to my delight, James indicated that Jakes had abandoned Oneness Pentecostalism, rejected Modalism, and, he believed, Jakes would make that clear at ER2. (Online source)
It's becoming clear that MacDonald and Jakes apparently had been communicating as to some alleged change in Jakes' position of the doctrine of the Trinity. As I see it, if Mark Driscoll amd MacDonald were already aware of Jake's new supposed trinitarian position, then it actually makes the ambiguous language that T.D. Jakes was allowed to get away with in ER2 all the more dubious.
The four points as to why Voddie Baucham didn't wish to align himself with ER2 are really quite refreshing; not to mention they essentially uncover the actual set up we would then witness in this budding bromance designed to mainstream T.D. Jakes:
My decision was based on four major areas of concern (Note: I voiced these four concerns to James MacDonald during our phone conversation the next day):

1. T.D. Jakes has a history of holding to, teaching, and associating with modalism, and ER2 was a forum wherein he would be assumed to be a "brother".I was already on record concerning Bishop Jakes's modalism (see:  The Ever Loving Truth, LifeWay, 2004), and I have kept up with the matter.  Jakes had never repudiated Oneness Pentecostalism.  Nor had he come out with an unambiguous, credal/confessional statement on the doctrine of the Trinity.  There was absolutely no basis for me to assume that Jakes was suddenly orthodox, and therefore, no basis for me to welcome him as a brother.

2. The "Word of Faith" gospel he preaches is heterodox and harmful.

Even if Jakes had come out with a statement on the doctrine of the Trinity, it would not have done anything to change the fact that he preaches "another gospel." (Gal 1:8–9)  Having studied the "Word of Faith" movement, and seen the devastation it leaves in its wake, I was disinclined to stand shoulder-to-shoulder with the man who has been this country's most popular purveyor of this heresy in the past two decades (Note:  James MacDonald and Mark Driscoll had both preached against the Word of Faith movement and called it heresy, so I did not believe I was informing James of anything he did not know already).

3. Jakes's influence in the Dallas Metroplex has been negative, at best.

My wife is from Dallas, and my in-laws still live there (her parents and five siblings).  I have preached in Dallas on many occasions, and at numerous churches, and have many acquaintances in the city.  I know firsthand what kind of influence T.D. Jakes has had on the evangelical community, and broader Christian witness there.  Suffice to say that he has not brought greater gospel clarity and fidelity.  He has, however, brought a charismatic, theatrical, excessive, "Word of Faith" flavor to the city that permeates many churches (especially black churches).

4. Bishop Jakes is an example of the worst the black church has to offer.

One of the goals of ER2 was to address the issue of "racial" unity.  Thus, Bishop Jakes was there (at least in part) as a representative of the "black church."  In light of the aforementioned issues, I was disinclined to participate in such an event.  You see, Jakes was an invited guest; an invited 'black' guest.  If he were mistreated, he had the race card; if he was accepted, he had entree into a new audience.  It was a win-win for Jakes, and a lose-lose for evangelicalism.  Obviously, he was not going to spout unadulterated modalism.  Nor was he going to repudiate his roots (remember, this is his "heritage," both ethnically and theologically).  He had a perfect opportunity to find a middle ground and show "humility" in an environment that would be portrayed as "hostile" even though hostility was forbidden in light of the unwritten rules surrounding his blackness.   Thus, his opponents had to choose between outright defeat and pyrrhic victory. (Online source)
From what Voddie Baucham tells us, ER2 already presumed T.D. Jakes a brother prior to his affirming trinitarian language in the room. Apparently this was all kept under wraps in order to titilate the audience into wondering  what was going to happen. When the truth is, it had already happened.
Again, this doesn't help ER2 concerning the way Jakes expressed his supposedly orthodox beliefs. What Jakes would say in essense is: I'm a trinitarian who expresses his views with modalistic language. But that's Humpty Dumpty language where words take on whatever meaning the speaker wants them to in a given situation.
Frankly, it's the language of the politician, not the theologian. In closing this, for now, I've had the pleasure of speaking with Voddie Baucham via email. I appreciate his gracious and thorough thoughts in The Elephant in the Room where he goes on to discuss what happened at MacDonald's men's conference.
He also looks back a few key points concerning it; and ER2, while finally, looking ahead to what appears to be coming from the aftermath of this growing bromance with T.D. Jakes. Well worth the read. One thing seems pretty clear to me: ER2 is a watershed event and the division it's going to cause is only barely beginning.
See also:
THERE'S MORE TO THE RESIGNATION OF JAMES MACDONALD FROM GOSPEL COALITION
T.D. JAKES IS HERETICAL CONCERNING MODALISM WHETHER HE BELIEVES IT OR NOT
EVANGELEPHANT MARK DRISCOLL TELLS ER2 "BROTHER" T.D. JAKES AND US MODALISM IS HERESY