By Ken Silva pastor-teacher on Jan 25, 2012 in AM Missives, Current Issues, Features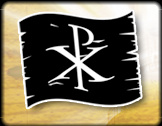 Apprising Ministries is among the online apologetics and discernment works covering the Elephant Room 2, which began today.
In Chris Rosebrough And Erin Benziger Not Allowed Into Elephant Room 2 I told that Chris Rosebrough of Pirate Christian Radio called earlier this morning.
He wanted to tell me that he and Erin Benziger, a special correspondent of Apprising Ministries were not going to be allowed into ER2.
Despite all their blather about unity, and after letting Rosebrough drive all the way from Indiana to Chicago, ER officials told him that he and Benziger must leave the property "immediately."
Well, I was actually on the phone with Chris when Jim Rowan, an elder at Harvest Bible Church, threatened to have them arrested.
Below in this special PCR segment Christian apologist Chris Rosebrough walks us through what exactly transpired:
See also:
"WE CAN WORK IT OUT:" IS JAMES MACDONALD QUALIFIED TO HAVE THIS CONVERSATION?
"WE CAN WORK IT OUT:" IS STEVEN FURTICK QUALIFIED TO HAVE THIS CONVERSATION?