By Ken Silva pastor-teacher on Dec 14, 2011 in Current Issues, Features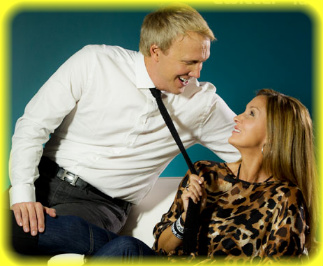 As Apprising Minsitries surveys crumbling Christendom as it implodes from man-love the landscape grows increasingly darker.
With things like the following, it's now even becoming downright creepy. Not too many would have envisioned a time where evangelicalism would be this far off-track.
Certainly not a time where the pastor would strive to be a sexpert from the pulpit. Well, it was stated elsewhere that one day not too far away a pastor and his wife will not only be sitting upon a bed as part of a love-making sermon.
Rather, in the interest of furthering the *cough* gospel of Christian sex, of course, they'll actually disrobe and then provide an intimate demonstration. We are now moving a little closer with SBC megapastor Ed Young and his wife Lisa who tweets:
The link now takes us over to the Sexperiment website hawking a new book by that title from Ed and Lisa Young all about:
Wow, I can almost hear the voice of Jesus Himself. And after-all, the Master did tell us — for out of the abundance of the heart his mouth speaks (Luke 6:45). You know, you'll be talking about what's of utmost importance to you.
And you know this book's got to be good as it's endorsed by spiritual wingnut "Rev." Run, Word Faith heretics pastor Brian and pastrix Bobbi Houston of the notorious Hillsong Church and Prophet-Pastor Steven Furtick:
We still await to see which of these couples will be the first to be authentic enough to copulate right on stage.
TheSexperiment.com from Fellowship Church on Vimeo.
See also:
ED YOUNG, JR PAYS HOMAGE TO JOEL OSTEEN
STEVEN FURTICK, JAMES MACDONALD, AND JOEL OSTEEN
MEGACHURCH PASTORS JOEL OSTEEN AND T.D. JAKES UNITE AND WHY YOU SHOULD CARE