By Ken Silva pastor-teacher on Dec 13, 2011 in Current Issues, Features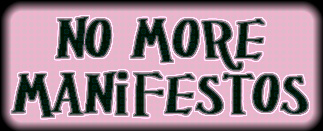 As this New Downgrade No-Controversy continues to pick up speed and size as it rolls down the hill toward the mainstream evangelicalism Apprising Ministries helps you get a better idea of who the major players are in spreading apostasy and opening the doors for heretics.
One of them is up-and-coming evangelical darling Prophet-Pastor Steven Furtick, who's set for Elephant Room 2 along with ostensibly reformed Gospel Coalition Council Members James MacDonald and Mark Driscoll and his fav preacher Word Faith heretic, T.D. Jakes.
This is all part of a growing syncretism as spiritual blindness continues falling across apostatizing evangelicalism while it pathetically grovels at the feet of mankind. Sadly, such as these are busy seeking to transform the Christian faith into something that the world will find appealing.
Against this backdrop I point you to Documentiasis: A Manifesto Against Manifestos over at Pyromaniacs where Phil Johnson hits the target dead-on discussing the plethora of manifestos emerging from these people-pleasing compromisers:
Another silly manifesto has been issued by some "top evangelical, Catholic, and mainline" officials, outlining new rules of engagement for missionary and evangelistic work.

The document is full of ecumenical argot and liberal gobbledegook. It employs the most passionate special pleading for pluralistic, postmodern, and politically correct values—urging Christians to "cooperate with other religious communities engaging in interreligious advocacy towards justice and the common good and, wherever possible, standing together in solidarity with people who are in situations of conflict."

But the document never once shows the slightest concern for getting the content of the gospel message correct. It is, in fact, a denunciation of evangelical principles; it is by no means a valid statement of evangelical mission.

Why are front-row evangelical leaders so enthralled with drafting formal statements and grandiose-sounding declarations? Virtually every year since the release of the first "Evangelicals and Catholics Together" statement in 1994, some group or another (usually consisting of self-appointed "evangelical" strategists and Christianity Today contributing editors) gets together to repudiate evangelical principles and discuss post-evangelical strategies—while pretentiously laying claim to leadership in the amorphous evangelical movement.

In the end, with great fanfare, they invariably issue "a historic manifesto." The profound historic significance of their work is typically declared by the drafters themselves in the lead sentence of all their press releases. And for some reason or another, Chuck Colson's name is prominent in most of the groups drafting these documents.

There was, of course, ECT II, "The Gift of Salvation" in 1997; ECT III, "Your Word Is Truth" in 2002; ECT IV, "The Communion of Saints" in 2003—and so on, all the way through ECT VII in 2009.

(There may actually be more ECT documents than that. I don't know. I've lost count, and I've lost interest.)
There have also been several non-ECT manifestos—most recently the highly publicized but quickly fizzling "Manhattan Declaration" (2009). That document aimed to garner one million signatures within a month. But almost two years after the PR campaign began, that charter still has not been able to acquire even half that many signatures.

One can't help noticing the common thread in this growing quiltwork of documents: virtually all of them strongly promote an ecumenical agenda. And the urgency of the ecumenical appeal is inversely proportional to the level of enthusiasm for whatever few shreds of evangelical conviction (if any) are expressed therein. If I read the trend correctly, the ecumenical agenda being pushed in these documents is growing more brazen and more demanding with each new document… (Online source)
You can read Phil Johnson's insightful post in its entirety and join in the discussion right here.
See also:
TRUE UNITY IN THE BODY OF CHRIST
PATHETIC PROTHOLICS LIKE JAMES ROBISON ARE REVERSING THE REFORMATION