By Ken Silva pastor-teacher on Oct 30, 2011 in Current Issues, Features, Southern Baptist Convention
UPDATE: LIFEWAY STATEMENT REGARDING PEEPING PASTOR SAM NUCKOLLS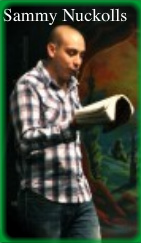 Spiritual darkness continues to grow and 1 Peter 4:17 judgments are being sent by Jesus to rain upon the visible Christian church.
As apostasy increases Apprising Ministries functions with other soldiers against error in the mission field of online apologetics and discernment along the Internet Front of this Truth War.
Sadly, stories like this are on the increase. Though once confined to churches more on the fringe, here you'll see it's as close as the SBC's Lifeway Fuge Camps.
This past Thursday Blytheville Courier News reports in Mississippi man accused of video voyeurism:
The Gosnell Police Department recently made an arrest in a case of video voyeurism. On Tuesday, Oct. 25, the GPD was contacted by the victim, who lives in Gosnell.

She told officers she had discovered evidence of having been videotaped by a hidden camera in her home, allegedly placed there by Sam Allen Nuckolls of Olive Branch, Miss., who was a houseguest of the victim and her husband. (Online source)
Then in his Olive Branch evangelist charged with video voyeurism Jason Miles of WMCTV adds:
Neighbors in Olive Branch were shocked to learn a traveling preacher was charged with using a hidden camera in a writing pen to peep on a woman. Traveling evangelist Sammy Nuckolls lives in Olive Branch.  We was charged with secretly recording a woman in a bathroom.

The incident happened in Gosnell, Arkansas.  Nuckolls was reportedly participating in a church revival and staying at the home of a local family.  That is where he is accused of recording the woman of the house taking a shower.

Police said Nuckolls used a spy camera hidden in a pen.  The pen also contains a flash drive inside.

Police said the alleged victim noticed the pen in the bathroom.  She later plugged it into a computer and discovered she had been recorded.

Nuckolls was charged with video voyeurism after police said he admitted to the crime, as well as previously recording two other women in Mississippi. (Online source)
Finally, concerning Sam Nuckolls FBC Jax Watchdog also informs us:
SBC's Lifeway 2011 Youth Camp Pastor at their FUGE events has been arrested for secretly filming a woman showering in her own home.

Sammy Nuckolls is a Southern Baptist evangelist who preaches primarily to youth groups in Southern Baptist churches, and has been featured by SBC's Lifeway as a "camp pastor" at their "FUGE" summer youth events.

Also, as seen at left, he has some affiliation with Robert Morris' Gateway Church in Dallas, TX. At Lifeway's FUGE blog they have already removed February 1, 2011 and October 10, 2011 blog posts written by Sammy, the former which said in part:

"Since 1995 I have been involved with FUGE as a camper, youth pastor, and camp pastor. As a camp pastor each week is different and exciting. It has been wonderful watching students and adults encounter Christ and respond to His truth and His greatness."
Sammy Nuckolls on Lifeway's FUGE blog (accessible through Google Reader)

And apparently being a Lifeway FUGE camp pastor has been "different and exciting" for Sammy in more ways than one… Sammy is out of jail now and in fact was Tweeting again tonight.

Sammy's website is down, and already Lifeway has removed references to Sammy from their blogs and websites… (Online source)
Below you'll see Sam Nuckolls as he was advertized on Lifeway's website:

See also:
T.D. JAKES AND SUPPORT FOR APPRISING MINISTRIES
JACKSONVILLE BEREAN BAPTIST "PEEPING PASTOR" SECRETLY VIDEOTAPED GIRLS CHANGING