By Ken Silva pastor-teacher on Sep 5, 2011 in Current Issues, Features, Homosexuality/"Christian"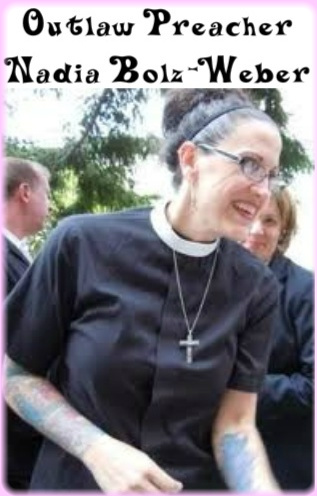 Apprising Ministries is a leading voice against the sinfully ecumenical neo-liberal cult operating within the Emerging Church aka the Emergent Church with ts new postmodern form of Progessive Christian theology—a Liberalism 2.0 many call Emergence Christianity.
One subset within this Emergent cult is a rather rapscallion bunch, who have crowned themselves Outlaw Preachers, and are now slithering all around head Outlaw gay affirming "pastor" Jay Bakker.
This growing, largely Biblically illiterate,  group of *cough* "preachers" is currently quite busy Turning God's Grace Into An Idol.
Sadly, these snakes wouldn't know proper Biblical doctrine if it bit them. I've talked about another one of their leading spokesmen in Outlaw Preachers Khad Young And Jay Bakker Don't Love Enough.
Young's following in the footsteps of the original outlaw preacher Jay Bakker and they have a primary calling to advance. OP's are aggressively pushing their evil pro-homosexual agenda to try and make the deviant and sinful lifestyle of same-sex sexual relations i.e. homosexuality a viable one for the Christian.
This they plan to do with the assistance of some of the bigger "name" Outlaw Preachers in the EC, such as self-professed "queer affirming" ELCA pastrix Nadia Bolz-Weber and Bakker's good friend apostate Fuller Theological Seminary professor Dr. Tony Jones.
However, they love to put on the air that they're not really pushing their views upon anyone else. Right; and the Pope's not Roman Catholic. Any of us who've argued with them (in the debate sense) know this tweet today from Khad Young contains as much truth as the typical political speech:
That sentiment of the OP's Khad Young sounds very pious but it only reveals his ignorance of the Bible and how unlike Jesus Christ they really are. Consider in Mark 12 where Jesus is debating in public with the Pharisees and the Sadducees:
And one of the scribes came up and heard them disputing with one another, and seeing that he answered them well, asked him, "Which commandment is the most important of all?" Jesus answered, "The most important is, 'Hear, O Israel: The Lord our God, the Lord is one.

And you shall love the Lord your God with all your heart and with all your soul and with all your mind and with all your strength.' The second is this: 'You shall love your neighbor as yourself.' There is no other commandment greater than these." And the scribe said to him, "You are right, Teacher. You have truly said that he is one, and there is no other besides him.

And to love him with all the heart and with all the understanding and with all the strength, and to love one's neighbor as oneself, is much more than all whole burnt offerings and sacrifices." And when Jesus saw that he answered wisely, he said to him, "You are not far from the kingdom of God." And after that no one dared to ask him any more questions. (Mark 12:28-34)
Did you see that, Jesus was disputing—arguing, debating—with these religious leaders. This scribe approaches Jesus because he had obviously been impressed by what the Lord had said, which of course he would never have heard unless Jesus had been willing to make a public stand for the Truth.
Now here's the great Bible commentator Matthew Henry on this passage from his classic commentary:
See here the method Christ takes to clear and establish this truth, which they attempted to darken, and give a shock to. This was a matter of moment, and therefore Christ does not pass it over lightly, but enlarges upon it, that, if they should not be reclaimed, yet others might be confirmed.

He charges the Sadducees with error, and charges that upon their ignorance. They who banter the doctrine of the resurrection as some do in our age, would be thought the only knowing men, because the only free thinkers, when really they are the fools in Israel, and the most enslaved and, prejudiced thinkers in the world. (Online source)
It's precisely because Jesus took a path to "clear and establish the truth" by debating these things in public that we now have His example concerning "the method" Christians are to employ with religious leaders who teach false doctrine; for example, the pernicious pro-homosexual skubalon of  Jay Bakker.
Yet another reason we are to reject these "Christ-followers" who aren't at all like Christ Jesus…
See also:
KEN SILVA, JAY BAKKER AND HOMOSEXUALITY
DID NADIA BOLZ-WEBER JUST CALL JESUS "A SCHMUCK"?
THE NEW CHRISTIANS WITH CHRISTIANITY WORTH BELIEVING—NO SOLA SCRIPTURA: YES, WOMEN PASTORS AND QUEER CHRISTIANS