By Ken Silva pastor-teacher on Jun 24, 2011 in Current Issues, Emergence Christianity, Emergent Church, Features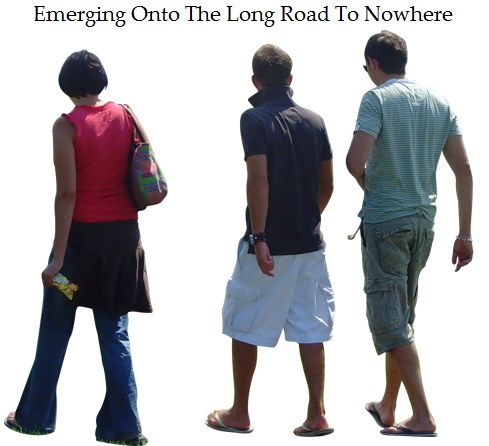 Unfortunately the spiritually obtuse seem to think the sinfully ecumenical neo-liberal cult of the Emergent Church aka the Emerging Church is dead.
However, what Apprising Ministries has been documenting for you is that we've now witnessed an upgrade to the Emerging Church 2.0, which claims its "big tent" postmodern Progressive Christianity aka Emergence Christianity is the historic Gospel of Jesus Christ bringing His kingdom to the earth now.
This becomes possible in their minds when we consider that the flawed philosophy of postmodernism is known for paradoxes and its irrational philosophy.
So essentially we end up in a whacked Wonderland of Humpty Dumpty language, which is why corrupt Contemplative Spirituality/Mysticism (CSM) is so appealing to these postmodern liberals in the Emerging Church. Since I covered these subjects in more depth elsewhere, e.g. in Mysticism And Postmodernism, The Emerging Church, And Evangelicalism, here I'll just remind you that mysticism is perfectly suited to the philosophy of postmoderism that now dominates much of this caprious culture in which we find ourselves.
It's important that you come to understand as well that all of this is also quite similar to the Gnosticism we see being battled by the Apostles themselves in the New Testament; the common thread is their supposed superior secret knowledge gleaned from the practice of CSM, which is why I've labeled as neo-Gnostics people like Living Spiritual Teacher and Quaker mystic Richard Foster along with his spiritual twin and Southern Baptist minister Dallas Willard—as well as those who follow these deceivers like Living Spiritual Teacher andEC guru Brian McLaren and his disciple EC rock star pastor Rob Bell.
As I pointed out before, you must realize such as these delude themselves into thinking they are the "initiated" and "enlightened" ones who're just a little bit better than the average Christian because of their practicing so-called spiritual disciplines of spurious CSM under the guise of Spiritual Formation. The most important of which would be the practice of Contemplative/Centering Prayer (CCP), which is a transcendental meditation-lite while in an altered state of consciousness; and this is what they have in common with the other religions these compromisers are so busy courting right now.
Now you have the proper backdrop against which to see what's going on with the latest EC apostasia-palooza called the Wild Goose Festival (WGF), which I covered in The Emerging Church On A Wild Goose Chase. As I said previously, WGF features a veritable who's who of heretics who've now gone embarking upon some Wild Goose Chase after another Jesus than the one we've always proclaimed, and to receive a different spirit from the one we received, and to accept a different gospel from the one we've always accepted (cf. 2 Corinthians 11:4).
Along with this, their mystic mush god with a man-shaped hole in his/her/it's heart has issued a new command: "You shall shut off your mind and love mankind, whom you worship, with all of your heart and all of your true self and all of your strength in your nonduality." It's time to face the fact that such as these neo-Gnostics, if they were even Christians at all, have left anything even remotely Christian; which brings me nicely to With a smearing of mud, 'Wild Goose' takes flight today by Patrick O'Neill for the National Catholic Reporter.
The mud reference appears as a nice play on words by O'Neill who tells us WGF "came to life" yesterday with "buckets of water and tubs of mud" and then can allude to mud-slinging as he quotes me:
That openness led to a comment from Southern Baptist blogger Ken Silva of New Hampshire-based Apprising Ministries: "The wise Christian will have nothing to do with these neo-Gnostic fools who've unbuckled themselves from the Word of God and have embarked upon their Wild Goose Chase of subjective experience."

Silva's comment was carried in a Religion News Service story about the festival. (Online source)
God be praised, like I told you in Apprising Ministries Hits Mark On The Wild Goose Festival, that comment comes from a post by Yonat Shimron called Left-leaning Christians to rally around 'Wild Goose' that ran over at the interspiritual website Beliefnet as well as USA Today Religion and Huffington Post; so my comment got plenty of blogosphere mileage. O'Neill tells us this wild goose chase began with something that sounds more like the New Spirituality than Christianity:
In a melding of spirituality, music, story-telling and fellowship, Wild Goose began with a request that those gathered sprinkle water on each other as a form of baptismal renewal, and smear mud on each other as a reminder that all come from dust and to dust they shall return — and as a reminder that "we are all connected to the earth, and we are connected to one another," said Wild Goose founder Gareth Higgins. (Online source)
That Tony Jones, the heretical progressive "theologian in residence" at Solomon's Porch officiated by his equally heretical comrade Doug Pagitt, calls Higgins one of his "dearest friends"[1] does tell us a lot about him, as does the fact that he's also a writer of the uber-liberal Huffington Post.[2] O'Neill then fills us in on some of the attendees of WGF, which included "gay Christians of all stripes and seasoned members of the Christian Left." Here we begin our mental off-roading into the muddy terrain of Humpty Dumpty language where words don't retain their actual meanings.
Gay Christians under this circus big tent of pseudo-Christianity means professing Christian who are actively involved with the deviant and sinful lifestyle of having sexual relations with another of the same sex, i.e homosexuality. As a matter of fact WGF is a haven for this type of homopression; you may recall from Outreach Report 6-23-2011: The Wild Goose Chase that AM board member pastor Dustin Segers talked about a discussion he had with Rev. Eric Elnes, Ph.D, which afforded Segers:
the opportunity to receive a free "If Love Wins What Now?" DVD by one Dr. Eric Elnes who walked our direction due to the preaching.  I later learned that Dr. Elnes teaches at Darkwood Brew, which is a Emergent Church/Coffee-House/web TV program.  This man was a "Christian universalist." (Online source)
Many of the wild goosers are also universalists; and in addition to that heresy Elnes happens to head up a decidedly divisive bunch calling themselves the Heartland Clergy for Inclusion. As I told you the other day in Heartland Clergy For Inclusion Causing Division this Eric Elnes is behind a a piece of lunacy in the Lord's Name called The Heartland Proclamation where we're informed that "[t]he Holy Spirit compels" them to write:
The verdict is in. Homosexuality is not a sickness, not a choice, and not a sin… [and we] embrace the full inclusion of our LGBT brothers and sisters in all areas of church life, including leadership;… (Online source)
What utter nonsense; God absolutely did not compel those words, it's just the love of self and a wild goose chase after another spirit. O'Neill tells us that WGF:
includes a bruising schedule that begins with yoga at 7:30 a.m. and doesn't let up until a "Nightly Brew Talk Show" that lasts until 12:30 a.m. Friday's schedule will include "Late Night Sacred Space" that starts at 11:30 p.m. Saturday closes with "Contemporary Compline" beginning at 11 p.m. (Online source)
Again, yoga and so-called sacred space have zero to do with the historic orthodox Christian faith, which is precisely why I made the comment quoted by O'Neill. He then gives us some of the leftist lineup including "Sojourners founder Jim Wallis; [and] Native American Christian Richard Twiss," who is a proponent of the dominionist New Apostolic Reformation. And finally, O'Neill inadvertantly brings us to the heart of the matter when he tells us that:
In his opening remarks, Higgins, 36, said he wanted Wild Goose to be a place to hear peoples' stories, to build relationships and mend the world. He urged people to "draw upon the source of inexhaustible love — to just reach out and grab it…[and] to learn how to be more human together."

While not taking stands on the usual contentious issues among Christians, such as abortion and the inclusion of gays and lesbians in the life of the church, Higgins has said Wild Goose is inclusive — all are welcome — regardless of beliefs or anything else for that matter.
(Online source)
Inexhaustible love of the self, learning to be more human, no doctrinal stands, and anything goes beliefs; this sums up the emerging long road to nowhere with their neo-Bohemian worship of the created quite well, but the Lord says it even better:
Claiming to be wise, they became fools, and exchanged the glory of the immortal God for images resembling mortal man and birds and animals and creeping things.

Therefore God gave them up in the lusts of their hearts to impurity, to the dishonoring of their bodies among themselves, because they exchanged the truth about God for a lie and worshiped and served the creature rather than the Creator, who is blessed forever! Amen.

For this reason God gave them up to dishonorable passions. For their women exchanged natural relations for those that are contrary to nature; and the men likewise gave up natural relations with women and were consumed with passion for one another, men committing shameless acts with men and receiving in themselves the due penalty for their error.
(Romans 1:22-27)
________________________________________________________________________________
Endnotes:
[1] http://tiny.cc/m2pzs, accessed 6/24/11.
[2] http://tiny.cc/756o9, accessed 6/24/11.
See also:
WHY NO CONDEMNATION FOR CHRISTIANS WHO ARE HOMOPRESSIVE?
JAY BAKKER, HOMOSEXUALITY, AND GOSPEL REDUCTIONISM