By Ken Silva pastor-teacher on Jun 15, 2011 in Current Issues, Emergence Christianity, Emergent Church, Features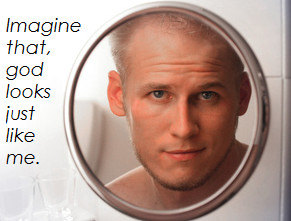 In recent articles like The Emerging Church On A Wild Goose Chase and More On—The god Of The Emerging Church and The Emerging Church, Doug Pagitt & Process Theology here at Apprising Ministries I've further developed an analogy I heard originally from Chris Rosebrough; The Build-A-God Shop, a venue where you can come in and share the characteristics of the god of your choosing.
Then after you place your order, people scurry down to the basement of the store and get to work cobbling together your version of god to fit your specific set of speculations.
So as I said, right now there are those furiously building a version of the mush god of mysticism with a man-shaped hole in his/her/its heart; particularly as typified by the Emerging Church aka the Emergent Church, a sinfully ecumenical neo-liberal cult with its new postmodern form of "big tent" Progressive Christianity—a Liberalism 2.0—sometimes referred to by these rebels against the final authority of God's Word as Emergence Christianity.
However, you need to know that these are neo-Gnostic fools who, through their practice of existential corrupt Contemplative Spirituality/Mysticism (CSM), have now unbuckled themselves from the Word of God and have embarked upon their wild goose chase of subjective experience.
Of course this negates the proper Christian spirituality of sola Scriptura and ends up getting it exactly backward; where the Christian is to measure all experience by Scripture (cf. 2 Thessalonians 5:21), the EC wild goosers interpret the Bible against the what they think they have heard and seen from God in the lifestyle of Jesus.
Cueing the song What if god was one of us, I've told you that EC mystic mush god is essentially a bigger version of man; and in fact, he/she/it is really but a mirror of themselves. And one of the tarnished tools these supposedly enlightened neo-Gnostic mystics have used to build their god is called Open Theism.
Dr. Gary Gilley now explains that:
Rather than an all-knowing and all-powerful sovereign God, we are presented with a God of give-and-take. Since this God does not know or control the future, the future is open to both Him and us.

The Lord really does not know what will happen until it happens – He is experiencing life in the present along with His creation. As a matter of fact, He, like us, is enduring pain and heartache, frustration and disappointment, in a similar manner as ourselves…

Perhaps the Psalmist put his finger on the real problem of open theology when, in another context, he penned God's accusation upon a wayward people by saying, You thought I was just like you (Psalm 50:21). This is openism's problem; their God is too human. (Online source)
See also:
OPEN THEISM'S ATTACK ON THE ATONEMENT
POSTMODERN MYTH AND SOME HOMEBREWED ROB BELL
BIG TENT CHRISTIANITY IS A POSTMODERN PROGRESSIVE LIBERALISM