By Ken Silva pastor-teacher on May 19, 2011 in Current Issues, Features, Quotes, Rick Warren, Southern Baptist Convention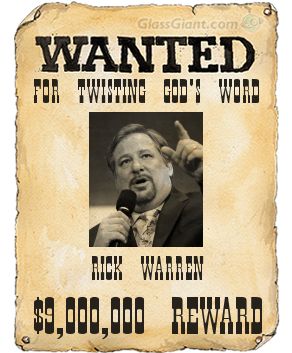 First we hear from Martin Luther, who's widely acknowledged as the father of the Protestant Reformation:
The negotiation about doctrinal agreement displeases me altogether, for this is utterly impossible unless the pope has his papacy abolished. Therefore avoid and flee those who seek the middle of the road. Think of me after I am dead and such middle-of-the-road men arise, for nothing good will come of it. There can be no compromise.

My dear pope, I will kiss your feet and acknowledge you as supreme bishop if you will worship my Christ and grant that through His death and resurrection, not through keeping your traditions, we have forgiveness of sins and life eternal.

If you will yield on this point, I shall not take away your crown and power; if not, I shall constantly cry out that you are the Antichrist, and I shall testify that your whole cult and religion are only a denial of God, but also the height of blasphemy against God and idolatry. (What Luther Says, II: 1019, as cited at Online source)
And now Southern Baptist pastor Rick Warren, working for a second reformation of "deeds not creeds," sets Luther straight:
"I see absolutely zero reason in separating my fellowship from anybody." (Online source)

"Now I don't agree with everything in everybody's denomination, including my own. I don't agree with everything that Catholics do or Pentecostals do, but what binds us together is so much stronger than what divides us," he said.

"I really do feel that these people are brothers and sisters in God's family. I am looking to build bridges with the Orthodox Church, looking to build bridges with the Catholic Church,…." (Online source, emphasis mine)

"The Church, in all its expressions—Catholic, Evangelical, Pentecostal, Protestant and many others—has 2.3 billion followers." (Online source, emphasis mine)
See also:
RICK WARREN AND ROMAN CATHOLICS
IS THIS DOCTRINAL AND SOUND DR. JOHN PIPER?