By Ken Silva pastor-teacher on Jan 28, 2011 in AM Missives, Contemplative Spirituality/Mysticism, Current Issues, Features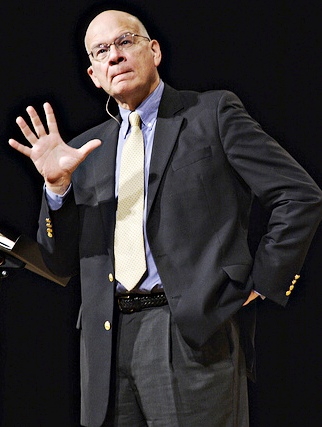 Yesterday in Tim Keller Recommending Roman Catholic Mysticism here at Apprising Ministries I showed you irrefutable evidence that Dr. Keller has been recommending the corrupt Contemplative Spirituality/Mysticism (CSM) ala Living Spiritual Teacher and Quaker mystic Richard Foster—and his spiritual twin Dallas Willard—which received a huge boost as evangelical churches embraced the sinfully ecumenical neo-liberal cult of the Emergent Church aka the Emerging Church. It's also beyond any doubt that CSM was a core dotrine in the EC right from its hatching in Hell and plays a critical role in the development of its postmodern Progressive Christian theology—a Liberalism 2.0—that they often refer to as "big tent" Emergence Christianity.
CSM, which negates the final authority of God's Word, and has played a huge part in the spread of this current growing apostasy; and just look at the fruit the practice of CSM has produced in the terrible teaching of the unholy EC trinity of apostates, universalist Emerging Church pastor Doug Pagitt, his friend Tony Jones, the progressive "theologian in residence" at Pagitt's Solomon's Porch, and Living Spiritual Teacher and EC guru Brian McLaren. In fact, McLaren and Foster's own Christian doctrine is now so watered-down and nebulous that they have been included in the Living Spiritual Teachers Project with apostate Roman Catholic mystics like Thomas Keating and Richard Rohr right alongside teachers of the New Spirituality like Deepak Chopra and Marianne Williamson.
The truth is that the very rotten core practice of this CSM is Contemplative/Centering Prayer (CCP), which is sometimes referred to as practicing "silence and solitude" or by the ridiculous moniker "wordless prayer"; but it's actually a type of meditation in an altered state of consciousness that's virtually identical to that practiced in Eastern religions such as Zen Buddhism and the transcendental meditation of Hinduism. And yet this kind of spurious Spiritual Formation—so-called "Christian" mysticism, which really developed in the antibiblical monastic traditions of apostate Roman Catholicism, is now showing up in more and more evangelical churches; and Tim Keller's taught on this himself as far back as 1998.
Dr. Keller himself taught Roman Catholic mysticism to his Redeemer Presbyterian Church (RPC) around the time the EC launched in a series called Gospel Spirituality-MCM:
As you can also see in Meditation What it is? , "This talk was given during a leadership training session at Redeemer Presbyterian Church in New York City" October 5, 1998:
Unfortunately there are those who insist Dr. Keller has never taught anything close to CSM and its CCP; but the evidence doesn't back up that claim. For one thing, something called The Way of the Monk put on at RPC in April 28, May 5 & 12 of 2009 by Susan Castillo, who told us she likes "to embrace her 'inner monk,'" where we supposedly would have been taught to have great theology become more real. The first class was on meditation in an altered state of consciousness:
Centering Prayer
Do you long for the great theology in your head to be more real to your heart? Come discover age-old methods of contemplative prayer and worship that can help you encounter Christ in a more intimate, experiential way. In this hands-on workshop, you will experience the ancient art of chanting the Psalms (they were meant to be sung!), embark on a practice of authentic Christian meditation, discover how a simple, time-honored tool can help unleash the prayer warrior in you, learn what a typical monastic day is like and how you can make your own, private retreat at a monastery, and much more! (Online source)
Then in the aforementioned Meditation What it is? Dr. Keller says:
we've got at least two other streams of that are filled with good, helpful material on meditation – the Catholic stream and the Quaker stream that are not primarily based on meditating on the Scripture.  There are a number of reasons why.  But just to give you an example, I read a book by a Quaker—ah actually the book is great, except for one part.  Some of you have heard of him.  His name is Richard Foster.  He wrote the book called Celebration of Discipline. (23:27-23:57)
Good, helpful material on meditation not primarily based on meditating on Scripture, which is spiritually dangerous at best, is CCP; note Dr. Keller says that this Catholic stream, the Quaker stream, and Richard Foster, provide "good" and "helpful" material on meditation. Dr. Keller also tells us that Foster has written another "book called Meditative Prayer and it's very typical of the Quaker tradition." In addition he shares, "The best things that have been written almost are by Catholics during the counter Reformation—Ignatius Loyola, Francis de Sales, John of the Cross, St. Teresa of Avila—great stuff." None of these people adhered to the proper Biblical spirituality of sola Scriptura.
In closing this, for now, here's another excerpt from Dr. Keller's mediation musing:
My main job tonight is to give you the concept.  You may have head the word meditate before, I'm going to next week talk about very… next week…next month, I'm going to talk about…I'm going to give you a whole lot of very very specific 'how to(s)'.  And I mean nobody's got one way that is the only way. 

I'm going to give you a [Roman] Catholic way, a Protestant way, Anglican way, I'm going to do everything I can.  But right now I just want to get you across the concept…George Muller would pray, just go right into prayer and as a result he was basically this level one. 

And he never got down into a deep offering of his heart to God and a sense of actually sensing God's reality – gazing on God by faith – never experienced that because he didn't meditate. When started meditating, he found, definitely his prayer life changed.
(Meditation What it is?,16:52-17:44)
Only in the postmodern Wonderland of Humpty Dumpty language, where words don't retain their actual meanings, could any of the above from Dr. Tim Keller be anything other than a recommendation of the practice of corrupt Counter Reformation Contemplative Spirituality/Mysticism roundly rejected by the Protestant Reformers. I'll say it again: We have much reason for realconcern about this so-called New Calvinism, which itself appears to be a postmodern form of Calvinism embracing both Reformation theology and the Counter Reformation spirituality of CSM.
See also:
TIM KELLER AND CONTEMPLATIVE PASTRIX ADELE CALHOUN
WHAT'S GOING ON WITH DR. JOHN PIPER?
CONTEMPLATIVE SPIRITUALITY OF RICHARD FOSTER ROOTED IN THE EASTERN DESERT AND THOMAS MERTON
MEDITATING ON CONTEMPLATIVE/CENTERING PRAYER
CONTEMPLATING THE INNER LIGHT OF THE QUAKERS