By Ken Silva pastor-teacher on Aug 21, 2010 in Current Issues, Features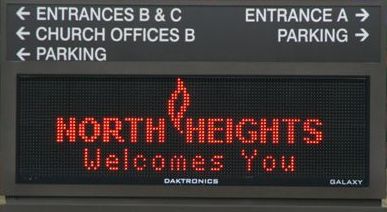 North Heights Lutheran Church (NHLC) of Arden Hills and Roseville, MN was originally with the ELCA but:
The charismatic church, which has sites in Arden Hills and Roseville, [changed] its affiliation to the Alliance of Renewal Churches, a Minnesota-based association of churches that emphasize spirit-filled worship. (Online source)
If, like me, you sense something's off here and you're wondering what this Alliance of Renewal Churches is all about I'll share with you the following from Mike Bradley, Director for the ARC:
What is the ARC?   I could try to answer that with a theological or visionary type of statement. But that would not get to the heart of the who the ARC is and what we're about as a network. Instead I'd like to share what I'm hearing from pastors and congregational leaders from around the country as they express who the ARC is for them. (Online source)
Hmm, this is revealing in and of itself: "I could try to answer that with a theological or visionary type of statement. But that would not get to the heart of the who the ARC is." We're not given something Biblically based; no instead, we're offered what people are saying bout ARC. No thanks, and especially after the first testimony: One ARC leader told me, "It's where I can be my most real self."
After doing this type of online apologetics and discernment work for years now at Apprising Ministries I'm not really suprised when I find an ARC page for "sought-after spiritual life coach" Mark Herringshaw and that he would just happen to be "a teaching pastor at North Heights Lutheran Church" as you can see below:
When I was writing this his Mark Herringshaw: Author. Communicator. Leader website didn't seem to be working properly so I took the above from its Google cache page. Pastor Herringshaw's quite the impressive fellow; but since he's not the sole subject of this post, here I'll simply draw your attention to his apparently unique extra-biblical abilities Above and Beyond Personal Coaching to get you "reconciled to your destiny":
You know you're on the planet for a reason but maybe you've never been able to "get off the mark" and live up to that potential. Over the last 20 years Mark has coached hundreds of individuals through – and beyond – these challenges. Using principles he developed through his breakthrough research leadership communication he can help you set a new life course – with real results! No, you do not have to settle for "plan B."

Master goal setting – planning the next 10,000 years
Learn the miraculous art of "transcendent communication" (Online source)
I should say that's some kind of a fountain of youth Herringshaw's found if he can plan your "next 10,000 years"; however, here we're concerned with this alleged "art of transcendent communication." You see, it's one thing if you wish to warp your own church body with these kinds of fatuous fabrications, but it's quite another when you go out into an unsuspecting community to sow them as is the case below.
There you'll see NHLC heading out to the Minnesota State Fair a week from today to spread this lunacy in the Lord's Name:
Professed "prophetic readings" are nothing more than an attempt to introduce people outside of his local church to Mark Herringway's hyper-charismatic fortune-telling by spraying it lightly with Christian terminology; and the Minnesota Christian Chronicle informs us in Crossroads Chapel already at work on State Fair ministry that "State Fair time" means:
Each year, hundreds of thousands of Minnesotans make their way to the "Great Minnesota Get Together" to check out the product booths, visit the midway, make a trip to the livestock barns, watch a concert, eat the latest State Fair food or any number of other things that make the Fair an annual trip for so many people.

For Christians, a trip to the Crossroads Chapel is also a regular occurrence. Begun in 1954, the Chapel was a simple tent, where films were shown, refreshments were served and Sunday services were conducted for visitors to the Fair. Then in 1962, the first permanent Chapel structure was built. The Chapel moved to its current location in 1986 and used materials from the former building to remodel the current Quonset hut, according to the group's website.

The Chapel is the work of Crossroads Ministry (also known as Greater St. Paul Area Evangelicals) and is run by volunteers. The ministry's purpose, as stated on its website, is "to provide spiritual training, education, hope and comfort for the purpose of presenting the Gospel of Jesus Christ and furthering the Kingdom of God." (Online source)
Crossroads Ministries itself would seem to be consistent in theology with the hyper-charismatic New Apostolic Reformation with its:
In the Lord, I would say to Christians in this area of Minnesota. that the proper Biblical guidelines with Herringway and his North Height quasi-Lutheran groups is to avoid such people (see—2 Timothy 3:5); and further, that you also take no part in the unfruitful works of darkness, but instead expose them (Ephesians 5:11). May God in His mercy grant them repentance and the forgiveness of their sins in Jesus' Name.
See also:
GOOD SHEPHERD CHURCH GOING APE…ALMOST
DONALD WHITNEY AND SPIRITUAL DISCIPLINES: SPIRITUALITY WITHOUT BOUNDARIES