By Ken Silva pastor-teacher on Aug 11, 2010 in AM Missives, Current Issues, Features, Homosexuality/"Christian"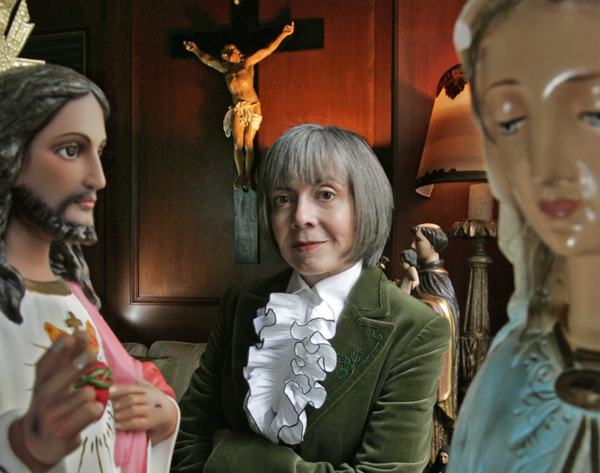 Apprising Ministries continues covering the sad saga of Anne Rice because it's also an indicator of evangelicalism, in very much the same way as gay affirming "pastor" Jay Bakker Reflects The Sad Condition Of The Visible Church.
In addition, as I said in Anne Rice In Apostasy,  if she would drop this and move, then I wouldn't have to continue to expose her in her apostasy; but she hasn't.
For a case in point, the below tweet from this afternoon:
Like this should come as a surprise with her doing interviews all over the landscape. As a further example, from today, we have Anne Rice: Best-Selling Novelist Explains Catholic Church Exit by ABC News. They tell us: Watch Dan Harris' interview with Anne Rice today on "World News" at 6:30 p.m. and watch the full story on "Nightline" at 11:35 p.m. ET" while also supplying the video seen below. 
Dan Harris and Wonbo Woo remind us that Rice:
maintains a very active Facebook page — on which she recently posted something rather incendiary. "Today I quit being a Christian," Rice wrote. "I'm out." She went on to call Christians, as a group, "quarrelsome, hostile, disputatious and deservedly infamous." (Online source)
Well, I find myself wondering what heretical quasi-universalist Emerging Church pastor Doug Pagitt, who heads Solomon's Porch where the equally heretical Tony Jones is his "theologian in residence," would have to say if it had been me who had spoken those incendiary words above. The way Rice seeths about "Christians, as a group," we're left wondering; would this be all Christians in general? Nope; as I pointed out in Anne Rice And Homosexuality, it turns out it's just the Bible-believing Christians who are truly committed to the actual Jesus.
As far as the video, essentially a commercial for Rice's latest book, Chris Connelly chats with Rice; he tells us she "returned to the [Roman] Catholic Church in 1996." Rice offers that with the new book she wanted to "create a probable reality for the Jesus of the Bible". She does make a telling confession as she explains that she wanted to take "the Jesus I believe in" and construct her own ideas about what He might have been like. Connelly does also point out Rice's "commitment to Catholicism," which is key to this story; Rice has no Christian testimony.
In fact, in the context of talking about her support of same-sex marriage, he even says to Rice, "You're a proud Catholic"; not a Christian, but a centered on the self slave to apostate Roman Catholicism, to which she replies:
I knew it was gonna to be difficult–my son is gay–he's a gay activist, a gay novelist.

Connelly: Some people would say he's going to hell.

Rice: Well, they would but, but, I don't, don't believe anybody in my church right now would say that. I think, I think our view is far more compassionate. See, I trust in the Lord; I know my son; and I trust the Lord knows my son. He's not going to send him to hell; that's not gonna happen. (2:52-3:16)
Yes, "I trust in the Lord" sounds very pious; however, it's clear she's listening to her own heart, which is filling her with wishful thinking: "I trust the Lord knows my son. He's not going to send him to hell; that's not gonna happen." But if she truly trusted Jesus then she'd believe His Word:
Or do you not know that the unrighteous will not inherit the kingdom of God? Do not be deceived: neither the sexually immoral, nor idolaters, nor adulterers, nor men who practice homosexuality, nor thieves, nor the greedy, nor drunkards, nor revilers, nor swindlers will inherit the kingdom of God. (1 Corinthians 6:9-10)
But this is the danger of making up your own personal Jesus; Anne and Christopher are both in rebellion against the one true and living God of the Bible, and they have currently entered through the wide gate that Jesus warned leads to destruction (Matthew 7:13). If we love Anne and Christopher Rice, we don't affirm them in their sin; we pray God will send people across their path to preach to them the Gospel of repentance for the forgiveness of sins in Jesus Name; and further, we pray that they will accept it.
Unfortunately effete emerging women in men's pants who're shipwrecking the faith of so many, e.g. Rob Bell, have long ago forgotten the truth of the following from Dr. F.F. Bruce:
Our Lord's sayings were all of a piece with His actions and His way of life in general. The fewer preconceptions we bring from the outside to the reading of the Gospels, the more clearly shall we see Him as He really was. It is all too easy to believe in a Jesus Who is largely a construction of our own imagination—an inoffensive Person Whom no one would really trouble to crucify.

But the Jesus we meet in the Gospels, far from being an inoffensive Person, gave offense right and left. Even His loyal followers found Him, at times, thoroughly disconcerting. He upset all established notions of religious propriety. [1]
________________________________________________________________________________

End notes:

[1] Walter C. Kaiser, Jr., Peter H. Davids, F.F. Bruce, Manfred T. Brauch, Hard Sayings of the Bible [Downers Grove: InterVarsity Press, 1996], 18, 19)
See also:
ANNE RICE, YOU CAN'T QUIT CHRISTIANITY UNLESS YOU'RE A CHRISTIAN
THE NATURE OF A TRULY TRANSFORMED HEART
WHAT DOES THE ROMAN CATHOLIC CHURCH TEACH ABOUT THE DOCTRINE OF JUSTIFICATION?
ROMAN CATHOLICISM: ANOTHER GOSPEL OF BAPTISM AND SACRAMENTS