By Ken Silva pastor-teacher on Jul 22, 2010 in Current Issues, Features


Pete Wilson is a pastor in the Purpose Driven/Seeker Driven sector sounding more and more like those timid fellows who are within the Emerging Church.
And today Wilson would warble: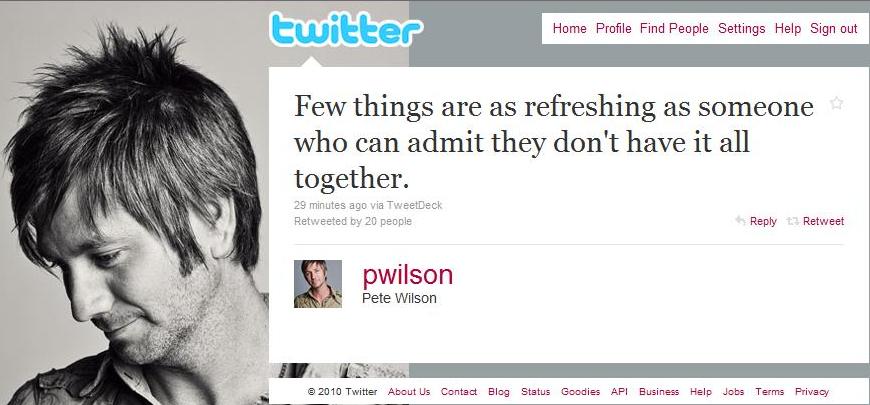 Ah yes, Wilson would appear to have been very well conditioned into today's effete centered on the self form of Christianity. Indeed, he has quite ably parroted the "humble" pastor's postmodern partyline.
Well, Apprising Ministries still remembers the day when leaders were actually leaders. As for me, I think few things are as inspiring as a godly man who can tell the flock, I know the way; follow me:
 Be imitators of me, as I am of Christ. (1 Corinthians 11:1)
See also:
THE NON-GOSPEL OF THE EMERGING CHURCH 2.0
MYSTICISM AND POSTMODERNISM, THE EMERGING CHURCH, AND EVANGELICALISM
PD/SD PASTOR SCOTT HODGE AND THIS IS YOUR BRAIN ON MYSTICISM
DOUG PAGITT, THE EMERGING CHURCH, AND AFFIRMING HOMOSEXUALITY
THE NEW CHRISTIANS WITH CHRISTIANITY WORTH BELIEVING—NO SOLA SCRIPTURA: YES, WOMEN PASTORS AND QUEER CHRISTIANS