By Ken Silva pastor-teacher on Jul 12, 2010 in Contemplative Spirituality/Mysticism, Current Issues, Features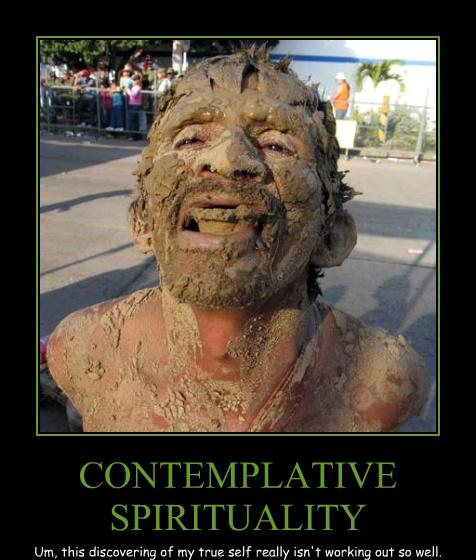 The coming of the lawless one is by the activity of Satan with all power and false signs and wonders, and with all wicked deception for those who are perishing, because they refused to love the truth and so be saved. Therefore God sends them a strong delusion, so that they may believe what is false, in order that all may be condemned who did not believe the truth but had pleasure in unrighteousness. (2 Thessalonians 2:9-12)
The Truth About Human Nature
Apprising Ministries continues warning of the growing apostasy of sinful ecumenicism advanced by those supportive of a form of meditation in an altered state of consciousness known as Contemplative/Centering Prayer (CCP). This so-called prayer happens to be the crown jewel of  Contemplative Spirituality/Mysticism (CSM), which is actually a romaticized version of neo-Gnostic Roman Catholic mysticism.
This CSM was unloaded into Young Adult and Youth ministries within mainstream evangelicalism by the neo-liberal cult of the Emerging Church and then promulgated under the guise of so-called Spiritual Formation e.g. that taught by Living Spiritual Teacher and Quaker mystic Richard Foster, with his spiritual twin and Southern Baptist minister Dallas Willard along to give this asceticism-lite neo-Pietism a thin veneer of scholastic respectability.
Now I point you to something called Contemplative Outreach (CO):
Contemplative Outreach is a spiritual network of individuals and small faith communities committed to living the contemplative dimension of the Gospel. The common desire for Divine transformation, primarily expressed through a commitment to a daily Centering Prayer practice, unites our international, interdenominational community.

Today, Contemplative Outreach annually serves over 40,000 people; supports over 120 active contemplative chapters in 39 countries; supports over 800 prayer groups; teaches over 15,000 people the practice of Centering Prayer and other contemplative practices through locally-hosted workshops; and provides training and resources to local chapters and volunteers. We also publish and distribute the wisdom teachings of Fr. Thomas Keating and other resources that support the contemplative life. (Online source)
CO is on Twitter as Centering Prayer and just tweeted:
Did you catch that; in addition to "purification of the unconscious," i.e. this clearly is done an altered state of consciousness, we receive "affirmation of our basic goodness." That's a denial of the doctrine of original sin in favor of the CSM derived nonsense of some alleged "true self"; but here's the problem, we don't have any "basic goodness" according to Jesus.
Concerning Noah and his family's post-flood sacrifice He assured us:
And when the LORD smelled the pleasing aroma, the LORD said in his heart, "I will never again curse the ground because of man, for the intention of man's heart is evil from his youth. Neither will I ever again strike down every living creature as I have done." (Genesis 8:21)
Notice carefully man's heart is evil; this is the same thing Jesus told His disciples in Matthew 7:11 while discussing the subject of gifts and why they can trust God the Father in prayer — "If you then, who are evil, know how to give good gifts to your children, how much more will your Father who is in heaven give good things to those who ask him!"
Because of the fall, even in our regenerated state, we are corrupt in things pertaining to God; and as such — We have all become like one who is unclean, and all our righteous deeds are like a polluted garment. We all fade like a leaf, and our iniquities, like the wind, take us away (Isaiah 64:6). The Lord also tells us through His inspired Apostle Paul:
For I know that nothing good dwells in me, that is, in my flesh. For I have the desire to do what is right, but not the ability to carry it out. For I do not do the good I want, but the evil I do not want is what I keep on doing. Now if I do what I do not want, it is no longer I who do it, but sin that dwells within me.

So I find it to be a law that when I want to do right, evil lies close at hand. For I delight in the law of God, in my inner being, but I see in my members another law waging war against the law of my mind and making me captive to the law of sin that dwells in my members. Wretched man that I am! Who will deliver me from this body of death? Thanks be to God through Jesus Christ our Lord! So then, I myself serve the law of God with my mind, but with my flesh I serve the law of sin. (Romans 7:18-25)
There's no way whatsoever that these Scripture-denying contemplatives like Thomas Keating et al could hold Paul's sandals when it comes to faith and the pursuit of the holiness of God; and yet, look at his struggle with the sinful nature every one of us who are Christians will always have to battle this side of Heaven. Yes, transformation begins here; but it's perfected at the last trumpet (1 Corinthians 15:52).
And so, we remain grateful for the Gospel of repentance for the forgiveness of sins in Jesus' Name. What I've showed you is the Truth about human nature from God's Word in the Bible; and if you, for whatever reason, don't love the Truth then you are in danger of being found in our opening text. Please repent, and believe the Good News:
because, if you confess with your mouth that Jesus is Lord and believe in your heart that God raised him from the dead, you will be saved. For with the heart one believes and is justified, and with the mouth one confesses and is saved. For the Scripture says, "Everyone who believes in him will not be put to shame." For there is no distinction between Jew and Greek; for the same Lord is Lord of all, bestowing his riches on all who call on him. For "everyone who calls on the name of the Lord will be saved." (Romans 10:9-13) 
See also:
THOMAS KEATING ON CONTEMPLATIVE/CENTERING PRAYER
THOMAS KEATING GUIDELINES FOR CONTEMPLATIVE/CENTERING PRAYER
MEDITATING ON CONTEMPLATIVE/CENTERING PRAYER
IRON SHARPENS IRON WITH KEN SILVA ON MYSTICISM
SOUTHERN BAPTIST SOUL SHAPING RETURN TO RELIGIOUS BONDAGE
DONALD WHITNEY AND SPIRITUAL DISCIPLINES: SPIRITUALITY WITHOUT BOUNDARIES