By Ken Silva pastor-teacher on Jul 12, 2010 in AM Missives, Current Issues, Features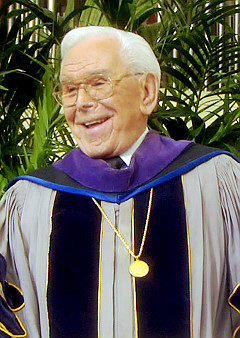 Yesterday in Robert Schuller retiring from Crystal Cathedral I linked to a Breitbart report and said that the visible church will be minus a chief heretic as Breitbart is reporting that Robert Schuller is retiring:
The Rev. Robert H. Schuller, founder of Southern California's Crystal Cathedral megachurch and host of the "Hour of Power" televangelism broadcast, announced Sunday he will retire after 55 years in the pulpit and his daughter will take over.

The 83-year-old Schuller told his congregation that Sheila Schuller Coleman will become sole lead pastor, after sharing that role with her father for the past year… (Online source)
As you can see, Robert Schuller: Father Of The New Reformation, would be leaving us with yet another violation of God's Word with his daughter pastrix Coleman. 
However, there now seems to be more to the story because Apprising Ministries has an email sent out last night from Crystal Cathedral Ministries where pastrix Coleman, "Director of Ministry & Mission," informs us that her father Robert Schuller is not retiring:
Pastrix Coleman then goes on to tell us:
In my comments following the commissioning ceremony this morning, I made it very clear that nothing was changing as a result of the commissioning service today. It was merely an affirmation of the denomination. Further, I made it clear that it was my call to stand beside my father, to pray for him so he can continue to preach his unique and positive message from this pulpit for the rest of his life.
So is he, or isn't he retiring; only his daughter seems to know. But unfortunately, it would now appear we can expect more man-centered myth coming from Robert Schuller and his corrupt Chrystal Cathedral.
See also:
ROBERT SCHULLER MENTOR TO RICK WARREN ON THE LOVE OF MAN: CHRIST DIED FOR NEGATIVE SELF-IMAGE
JOHN MACARTHUR: SEEKER-FRIENDLY MOVEMENT IS THE NEW LIBERALISM