By Ken Silva pastor-teacher on Jun 25, 2010 in AM Missives, Contemplative Spirituality/Mysticism, Current Issues, Features, Spiritual Formation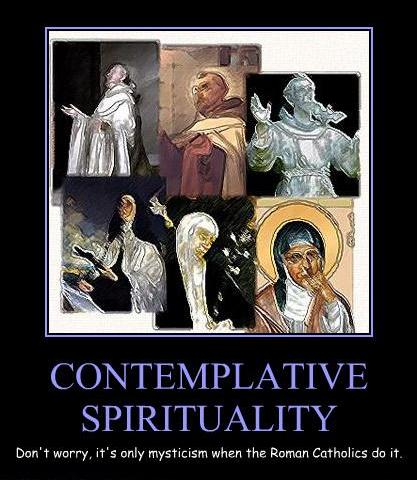 Apprising Ministries correspondent Christine Pack of Sola Sisters tells us of her interview today on the Crosstalk radio program of Ingrid Schlueter today:
During the show, I briefly went over my own testimony of being mercifully saved out of New Age Spirituality (also called New Spirituality), only to find that the same mysticism I had once practiced was now coming into the church.

Mysticism has gone mainstream, and many of today's pastors are "speaking" the language of mysticism (Spiritual Formation, Spiritual Disciplines, Solitude and Silence, etc.), as well as selling books leading unwitting readers into occultic mystical practices- chiefly, mantra meditation.  Some of the more surprising names are well-respected leaders in evangelicalism today:

Dr. John Piper
Tim Keller
Matt Chandler
Mark Driscoll
Rick Warren (Online source)
And then from the Crosstalk website we read:
Christine Pack is the co-publisher of the Sola Sisters blog.

Christine shared her story of how she grew up attending a liberal Christian church. Although she described her experiences there as good, she admitted that she was not regenerated and eventually became interested in Eastern religion during her college years. Her father very faithfully witnessed to her for more than a decade which led her to realize her brokenness and need for Christ. However, her "coming out" of the New Age led her to discover that evangelical Christianity was merely ushering in some of the same mystical practices.

Christine raises the question as to why leading evangelical teachers are promoting mystical authors and teachings that have roots firmly planted in occult New Spirituality and not the Bible (Online source)
You can download and/or listen to the program with our AM correspondent Christine Pack right here.
See also:
EVANGELICALISM NOW REAPING WHAT IT HAS SOWN
DONALD WHITNEY AND SPIRITUAL DISCIPLINES: SPIRITUALITY WITHOUT BOUNDARIES 
 SADDLEBACK CHURCH, RICK WARREN, AND SPIRITUAL DISCIPLINES 
"CELEBRATION OF DISCIPLINE" BY RICHARD FOSTER AN ENCYCLOPEDIA OF THEOLOGICAL ERROR  
DALLAS WILLARD ENCOURAGES CONTEMPLATIVE/CENTERING PRAYER 
ROB BELL AND SHANE HIPPS TEACHING MYSTICISM