By Ken Silva pastor-teacher on Apr 3, 2010 in AM Missives, Current Issues, Features, Rick Warren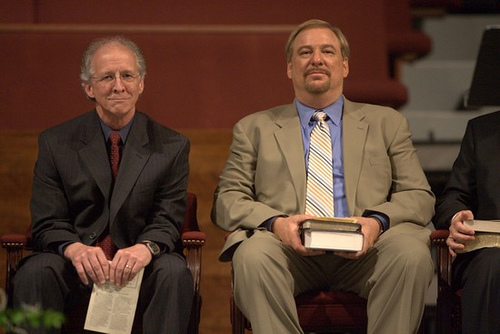 Ever since Dr. John Piper made the unfortunate mistake of asking Rick Warren to be a keynote speaker for the Desiring God Conference 2010 at Apprising Ministries I've been keeping you updated on the events surrounding Warrengate. You may know that John Piper released a video detailing the reasons why he decided to extend this offer to Rick Warren.
Pastor Rob Willmann has made a helpful transcription of this video over at his Vibist.com website, wherein John Piper does say: 
Now you're face with the question: "OK, I'm with John Piper theologically. I'm not with Rick Warren on a bunch of things. John Piper has just chosen to hang out with Rick Warren. What do I do with John Piper?" That's called secondary separation issues. And there you are. I hope… I hope we can disagree about WHO we hang out with. OK? Because a lot of traditional fundamentalists have said "No, if you hang out with somebody that I believe I should separate from, then I'm gonna separate from you."

And I wanna say: Look. Let's… Can we disagree about whether he would come to your conference and you still be willing to eat with me, talk with me? So I would encourage you to think through that issue of secondary separation. (Online source)
On that note which concerns the issue of separation Daniel Chew, author of the fine book Driven Away By Purpose, has just written an article entitled Piper, Warren and the Doctrine of Salvation. I strongly suggest you prayerfully read Chew's entire article. He's dead-on-target in this excerpt as he points out:
Amidst the shock that accompanied Piper's invitation to heretic Rick Warren for the Desiring God conference 2010, Piper's apologetic for such an invitation involved an implicit attack on the doctrine of separation. In light of this, there is a necessity to clarify the doctrine of separation and how it is supposed to work out in this case… Those who refuse to separate from heretics are reckoned as being partakers of their evil deeds…

Yet as contra Fundamentalism, we do not and should not treat Piper as our enemy. Piper after all is our brother in Christ… We are to grieve for his error and petition the throne of God with tears that our Lord will have mercy and grant to Piper repentance for his error. In this light, we are to continue to be willing to eat and talk with Piper. On this, Piper would have his wish.

Secondly, as contrary New Evangelicalism, "secondary separation" IS biblically mandated. There is simply no way to parse Scripture and spin it to avoid the conclusion of the plain teaching of 2 John 9-11. While we do not treat Piper as an enemy, we are to disengage with him on issues of ministry. Knowing as it is that the DG2010 conference is a Christian conference, NOT an academic forum, such an invitation is tantamount to giving Warren space at the pulpit to preach.

The other DG2010 speakers should withdraw from speaking at the conference in this light. I would therefore also second Lane Chaplin's stance that "I cannot, in good conscience, endorse John Piper again". While Piper's books can still be recommended from an academic/ knowledge perspective, the person of John Piper cannot be endorsed after this episode unless he repents. So, let us come before God in tears and ask him to grant Piper repentance for this terrible decision that he has made. Do not treat him as an enemy but as a brother in sin. Amen. (Online source)
And then there's my good friend, and dear brother in Christ, Cecil Andrews of Take Heed Ministries in Northern Ireland. I'm blessed that as I was starting out Cecil was very helpful, as well as kind enough, to be among those who endorse this online apologetics and discernment work. He emailed me today because he was just speaking at Grace Baptist Church-Peel on the Isle of Mann in the UK where we have a mutual friend who attends. Cecil told me that they specifically asked him if he would address one particular topic at their midweek meeting, which happened to be on Wednesday, March 17th.
Interestingly enough, as the Lord would will, that topic would be: "Rick Warren and things Purpose Driven." In closing this out, for now, you can download and listen to that message by Cecil Andrews right here.
See also:
THE INADEQUATE GOSPEL OF RICK WARREN
DR. MICHAEL HORTON ON THE CHAMELEON-LIKE RICK WARREN
SBC PROTESTANT PASTOR RICK WARREN DOUBLE-MINDED ON THE REFORMATION AND ROMAN CATHOLICISM
SOUTHERN BAPTIST PASTOR RICK WARREN AND SADDLEBACK CHURCH OPENLY RECOMMEND CONTEMPLATIVE SPIRITUALITY/MYSTICISM
SADDLEBACK CHURCH PASTORS USING ROB BELL TEACHINGS
DR. ROD ROSENBLADT CALLS RICK WARREN'S MAN-CENTERED THEOLOGY "ROMAN CATHOLIC"