By Ken Silva pastor-teacher on Nov 19, 2009 in AM Missives, Current Issues, Emergence Christianity, Emergent Church, Features, Homosexuality/"Christian", Rob Bell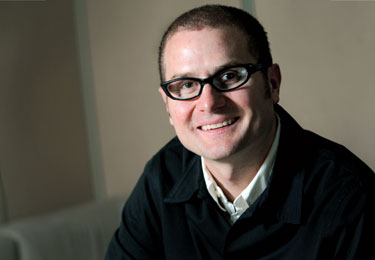 Jonathan Bell, who's brother is Rob Bell, the Elvis of the egregiously ecumenical Emerging Church de-formation of the Christian faith aka Emergent Church—now morphing into Emergence Christianity (EC), wanted us to know about:
an interview with my brother (@realrobbell) that sheds some light on some of the projects we're working on http://bit.ly/9VmN7 (Online source)
That link takes us to something called the Burnside Writers Collective and the article Rob Bell 2.0 (or Where Are the Artists?). You may recall that Apprising Ministries has recently been covering the Growing Gay Agenda In Evangelicalism spearheaded by the EC and fellow false prophets, the rather biblically illiterate bunch who've crowned themselves as Outlaw Preachers (OP).
Front-line assaults to try and convince us that the deviant lifestyle of having sexual relations with another of the same sex, i.e homosexuality, is a viable one for the evangelical Christian are already being launched within mainstream evangelicalism, e.g. by EC OPers like "queer inclusive" ELCA "pastor" Nadia Bolz-Weber, gay affirming "pastor" Jay Bakker, and Phyllis Tickle, the Empress of Emergence Christianity.
So this section of the interview certainly caught my attention:
BWC: Turning an eye to social politics, how do you feel about news like that of Maine's repealing of LGBT marriage rights? Granted, everyone's got an opinion, and I'm not asking you to answer the "Is homosexuality a sin?" question. But in general, how do you feel we should respond to this news, and that of other minority groups? How should our faiths inform our behavior?

Bell: You can simply take a side, which a lot of churches do. If you're a leader, you say, "This is where we stand" and if you're part of it, just go along with it. The problem with that nice, neat view of reality is that in a church like Mars Hill, we have members across the full spectrum. So we have war protestors and we have parents of soldiers currently fighting in Iraq.

There are people who say, "Well, you need to talk to the half of the church that's wrong, and get them right." But then that's where your energies go. That's all you do. Convincing all those on one side to come over to the other. The next week, though, the issue will be something different. And you spend most energy on yourself.

What we say is, "What are the things that 10 years ago, this year, and 10 years from now that we could address?" For instance, we've been building a micro-finance bank in Burundi for those trying to get loans. We send accountants over to see if things are sharp, filmmakers to capture it and spread the word, and show others what our money is doing…what's actually happening. We're also working at a local school. There are about 150 kids being mentored, and the school is asking the church, "Please send more!" The goal is to have a mentor for each child.

We pour our energies into something together. "You and you are at odds on a certain issue? Could you work on THIS together?"

We talk about being aggressively non-partisan, while acknowledging that what we're doing will have political edges. So if we talk about the environment, for instance, it's not because we've been co-opted by a particular political party. It's because this is something pretty close to God's heart. We talk about widows and orphans. We talk about empowering people. It's not because we've been co-opted by another side. It's because it's helpful. (Online source, bold theirs)
Wow; what an impressive non-answer, complete with the use of smoke and mirrors, which no doubt rivals the master pragmatic politician, Purpose Driven Pope Rick Warren himself. Notice that Bell doesn't think it's a good use of energy to be, "Convincing all those on one side to come over to the other." Well, I have some news for Rob Bell; here's "something pretty close to God's heart" for those who would dare call themselves ministers of the Gospel of Jesus Christ to be doing:
Then He opened their minds to understand the Scriptures, and He said to them, "Thus it is written, that the Christ would suffer and rise again from the dead the third day,and that repentance for forgiveness of sins would be proclaimed in His name to all the nations, beginning from Jerusalem…

preach the word; be ready in season and out of season; reprove, rebuke, exhort, with great patience and instruction…holding fast the faithful word which is in accordance with the teaching, so that he will be able both to exhort in sound doctrine and to refute those who contradict. (Luke 24:45-47; 2 Timothy 4:2; Titus 1:9, NASB)
And Jesus would say that if Rob Bell doesn't want to begin using his energy doing so, then he should immediately get out of the ministry, and simply be a social worker.
See also:
THE GOSPEL-LESS GOSPEL OF ROB BELL
BIBLE OUTS GAY MARRIAGE (PART TWO)
ROB BELL, PETER ROLLINS, AND QUEERMERGENT'S ADELE SAKLER
ROB BELL ABSOLUTELY WRONG ABOUT SCRIPTURE
THROUGH ROB BELL "THE GREAT ENLIGHTENED ONES" TELL US MAN HAS DIVINE GREATNESS