By Ken Silva pastor-teacher on Nov 10, 2009 in Current Issues, Homosexuality/"Christian"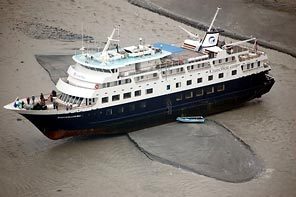 This morning progressive PC(USA) Christian Adam Walker Cleaveland, who is closely aligned with the egregiously ecumenical Emerging Church aka Emergent Church de-formation of the Christian faith—now morphing into Emergence Christianity recently taught that Jesus was wrong.
On a different note, today Cleaveland retweets the below:
RT @WillyMac4: Thinking, praying, and sending good energy to Lisa Larges for her Trials of Ordination today. (Online source)
If you didn't know, Lisa Larges is a lesbian candidate for the ministry in San Francisco Presbytery. Cleaveland also let lesbian "Christ-follower" Adele Sakler, who heads the emerging church group Queermergent, know that the proceedings will:
@ExistentialPunk definitely not [be] broadcast. But many will be tweeting for sure. Be watching for a hash tag… (Online source)
The hash tag to watch for further developments is #sfpby. If Larges, who is also director of the program That All May Freely Serve, is approved for ordination she may be the first openly gay pastor in the Presbyterian church.
See also:
PCUSA VOTES TO ORDAIN LESBIAN LISA LARGES
JESUS DEFINES MARRIAGE FOR RED LETTER CHRISTIANS
PROTESTANT CHURCHES SHIFTING TOWARD AFFIRMING HOMOSEXUALITY
THE SIN OF HOMOSEXUALITY IS DIFFERENT
WHY NO CONDEMNATION FOR CHRISTIANS WHO ARE HOMOPRESSIVE?
AN IN-DEPTH LOOK AT WHAT THE BIBLE SAYS ABOUT HOMOSEXUALITY
BUT DO EMERGENCE CHRISTIANITY AND BRIAN MCLAREN REALLY LOVE GAY PEOPLE?