By Ken Silva pastor-teacher on Oct 29, 2009 in Current Issues, Homosexuality/"Christian"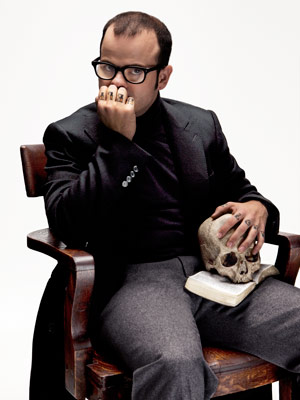 Today chief outlaw preacher and homopressive gay affirming "pastor" Jay Bakker wants us to know:
German Lutheran Church Elects First Female Leader: http://bit.ly/3SDDvH
That link takes us to the report referenced below from Reuters concerning more pretending to be "Protestant" apostasy:
German Protestants on Wednesday elected Margot Kaessmann, a divorcee and the Lutheran bishop of Hanover, to lead them, the first woman to take the post and only the third woman to head a major Church.

Kaessmann, 51, a regular on television talk shows and known in the media as the "pop bishop", was considered something of a controversial candidate to lead Germany's roughly 25 million Protestants because she is divorced… (Online source)
Perhaps more important concerning this "pop bishop" is that Scripture forbids any woman—divorced or not—to be in authority over men in the church, which I covered previously in Thoughts On Women Pastors. Yet now Kaessmann will be heading an apostate bunch called "the EKD, an umbrella group for 22 Lutheran, Reformed and United Churches."
Reuters continues:
"The election sends a signal to the Church worldwide that God calls us to leadership without consideration of gender, colour or descent," Rev. Ishmael Noko, general-secretary of the Lutheran World Federation, told the Ecumenical News International news agency at the synod in Ulm.

The mother-of-four will be charged with reviving the appeal of the Church, which has been losing members in recent years.

She has a reputation as a moderniser and supporter of closer dialogue between Catholics and Protestants… (Online source)
You can read this story from Reuters in its entirety right here.
See also:
MARTIN LUTHER SAYS NO…TO WOMEN PASTORS
LUTHERAN PASTRIX NADIA BOLZ-WEBER ON A JESUS AND THE ELCA
DID NADIA BOLZ-WEBER JUST CALL JESUS "A SCHMUCK"?
THE NEW CHRISTIANS WITH CHRISTIANITY WORTH BELIEVING—NO SOLA SCRIPTURA: YES, WOMEN PASTORS AND QUEER CHRISTIANS
THE EMERGENCE OF EVANGELICAL INCLUSIVE ORTHODOXY AND EMBRACE OF GLBTQ CHRISTIANS