By Ken Silva pastor-teacher on Oct 27, 2009 in AM Missives, Current Issues, Devotions, Emergence Christianity, Emergent Church, Features
Being one who began in ministry over 20 years ago in the fields of apologetics, Comparative Religion, and evangelizing those in non-Christian cults, I can tell you that a classic tactic of every cult is an attempt to circumvent the authority of the Bible. As I said in the Apprising Ministries piece Accusations Of "Bibliolatry" Not So New, the sad fact today is that the evangelical community is in growing rebellion against Sola Scriptura in favor of individual experience in Contemplative Spirituality/Mysticism (SF) masquerading as Spiritual Formation.
Such is the case with the egregiously ecumenical Emerging Church aka Emergent Church de-formation of the Christian faith—now morphing into Emergence Christianity (EC)—as typified e.g. in Rob Bell, easily the Elvis of the EC. This cult of a postliberalism, essentially an upgrade to Liberalism 2.0, carried with it the virus of CSM ala Living Spiritual Teacher and Quaker mystic Richard Foster along with his spiritual twin Dallas Willard. This CSM is actually just a repackaged water-down ascetic pietism rooted in the Counter Reformation spirituality of apostate Roman Catholicism.
Sleep on, if you must; but there are those who may wonder: Well Ken, must you say it that way? To quote the late cult expert Dr. Walter Martin, "If you have any brains you do." These EC pied pipers are simply another off-shoot of the semi-pelagian (at best) Church Growth Movement—centered on the self—with their existential and highly subjective experience over Scripture and a reimagined social gospel;  double-minded when it comes to Protestantism Purpose Driven pope Rick Warren might call it a new reformation of good deeds, not creeds.
Now you have the background to understand why the evangelical community has so readily accepted the uber inclusive Emerging Church, as well as why those of us Christians who insist that we must only preach the Gospel the way the Bible teaches us to are quite often be accused of being guilty of "Bibliolatry." In other words, we supposedly Pharisees who supposedly worship the Book of God instead of the God of the Book. The critical problem for Emergent Christianity is that this isn't true at all.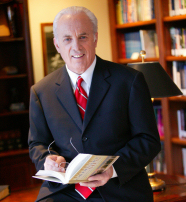 In the following excellent teaching from my morning devotion by fav EC punching bag Dr. John MacArthur, you'll see their charge is simply a pet Emerging Church straw man:
"You search the Scriptures because you think that in them you have eternal life; it is these that testify about Me; and you are unwilling to come to Me so that you may have life. I do not receive glory from men; But I know you, that you do not have the love of God in yourselves. I have come in My Father's name, and you do not receive Me; if another comes in his own name, you will receive him." (John 5:39-43, NASB)

Merely knowing the facts of Scripture, without hiding them in your heart and acting on them, will not bring the blessings of salvation. That was the problem of Jewish unbelievers. Jesus understood their searching of the Scriptures in a deperate and futile attempt to find the key to eternal life. But ironically, they failed to grasp that it is those very Scriptures "that testify about" Jesus.

The Bible cannot be properly understood apart from the Holy Spirit's illumination or a transformed mind. The Jews' zeal for the Scriptures was commendable, but because they were unwilling to come to Jesus—the sole source of eternal life—their knowledge did not result in salvation. Clinging in their stubborn unbelief to a superficial system of self-righteousness by works, they because ignorant of "God's righteousness and [sought] to establish their own" (Rom. 10:3). But self-righteousness cannot save anyone, since "all our righteous deeds are like a filthy garment" (Isa. 64:6).

Please be sure you are not trusting in your own roghteous works for salvation. Be sure you are clinging in utter dependance on the grace of God in Christ.

Ask Yourself

Have you ever allowed your knowledge of the Scriptures to blind you to its more excellent meaning, whether through pride or tradition or a dogmatic overconfidence in your own interpretations? How do you guard against these kinds of snares and deceptions. (John MacArthur, Daily Readings from the Life of Christ, October 27)
See also:
JOHN MACARTHUR: WHEN BEING "NICE" IS WRONG
RIGHTLY DIVIDING: HISTORIC EVANGELICALISM W/PHIL JOHNSON
JOHN MACARTHUR: SEEKER-FRIENDLY MOVEMENT IS THE NEW LIBERALISM
READ THE BIBLE, PRAY, AND DO WHAT IT SAYS
THERE IS NO SPIRITUAL SWITZERLAND
JOHN MACARTHUR: EXISTENTIAL NEO-ORTHODOXY DENIES SOLA SCRIPTURA