By Ken Silva pastor-teacher on Nov 18, 2007 in John Hagee, Word Faith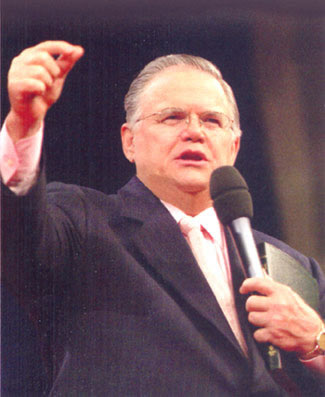 In this excellent piece by G. Richard Fisher of Personal Freedom Outreach (PFO), which Apprising Ministries considers a top discernment work, he refers to the April 30, 1988 of the Houston Chronicle concerning Word Faith preacher John Hagee:
The Houston newspaper then quoted Hagee's own shocking words: "I'm not trying to convert the Jewish people to the Christian faith." And further revealed:
"In fact, trying to convert Jews is a 'waste of time,' he said. 'The Jewish person who has his roots in Judaism is not going to convert to Christianity. There is no form of Christian evangelism that has failed so miserably as evangelizing the Jewish people. They (already) have a faith structure.' Everyone else, whether Buddhist or Baha'i, needs to believe in Jesus, he says. But not Jews. Jews already have a covenant with God that has never been replaced by Christianity, he says."
Hagee went on to tell the Houston reporter that Paul abandoned the idea of Jews knowing Christ when he went to the Gentiles. Jewish evangelism, both presently and in antiquity, is not a failure as Hagee stated but a huge success as many missions and missionaries can report.
In response to a direct inquiry by PFO director M. Kurt Goedelman to Hagee, Goedelman received a puzzling response. Hagee claimed in a carefully nuanced letter dated June 18, 1998, that the Houston Chronicle had distorted what he said and went on further to assert, "I have not or never have been dual covenant in my preaching."
In this, Hagee is being less than honest and playing word games. As this article will demonstrate, Hagee's true view is a muddled form of the "Two Covenant" or "Dual Covenant" theory, even though he would deny the label.
It should be noted that Hagee said in his reply only that he has not been dual covenant "in my preaching." His statement did not address whether he believed or taught it, but only that it was not in his preaching.
You can read the rest of the article here.
See also:
JOHN HAGEE DENIES THAT CHRIST (means MESSIAH) JESUS IS THE…MESSIAH!
JOHN HAGEE SAYS JESUS ISN'T THE MESSIAH BUT THE APOSTLE PAUL DISAGREES
JESUS TEACHES HE IS THE CHRIST BUT JOHN HAGEE SAYS THE MASTER IS MISTAKEN
JOHN HAGEE AGREES WITH WORD FAITH PROSPERITY PREACHER JOHN AVANZINI
JOHN HAGEE HELPS RAISE FUNDS FOR TBN
JOHN HAGEE: DR. MICHAEL BROWN'S CRITICAL PAPER ON "IN DEFENSE OF ISRAEL"
JOHN HAGEE UPDATED: HAGEE REWRITE OF CHAPTER ON MESSIAH BOGUS