By Ken Silva pastor-teacher on Dec 3, 2013 in AM Missives, Devotions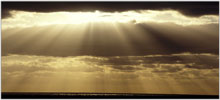 As I begin this I'd like to say a quick thank you for your continued patience and support. We also have no doubt that your faithful prayer is being answered by God and having its intended effect.
Unfortunately, circa 2004 much of mainstream evangelicalism would opt for an ill-fated embrace of the Church Growth Movement arm called the Emerging Church along with its Contemplative Spirituality/Mysticism (CSM).
This type of CSM is a romanticized version of Roman Catholic mysticism which truly is a serpent of syncretism that swallows whole doctrinal distinctives while deceiving its pratictioners into believing it's God's will.
Apprising Ministries has been among those who've warned you of coming charismania because of this type of apostasy. For example, the marriage of evangelicals like Steven Furtick with Word Faith mogul Joel Osteen.1
It's against this backdrop I share the following from Charles Spurgeon. You see, no one is saying we aren't to experience the presence of God. The issue is: What are the results of someone's alleged encounter with the Lord?
The fact remains that if you really wish to know that you're hearing God's voice, and further, if you want to insure that you are actually experiencing the presence of the Lord, then read His Word in the Bible:
He is not greater in this house than I am, nor has he kept back anything from me except you, because you are his wife. How then can I do this great wickedness and sin against God?" (Genesis 39:9)

Oh, if you and I always felt that God was near, looking steadily upon us, we should not dare to sin. The presence of a superior often checks a man from doing what else he might have ventured on, and the presence of God, if it were realized, would be a perpetual barrier against temptation and would keep us steadfast in holiness.

When Joseph afterwards at any time spoke of God, when God helped him not only to stand against temptation, but to do any service, you will notice how he always ascribed it to God. He would not interpret Pharaoh's dream without first telling him, "It is not me: God hath showed Pharaoh what he is about to do."

He was as conscious of the presence of God when he stood before the great monarch as when he refused that sinful woman. I am afraid that we do not habitually talk in this fashion, but Joseph did.

Without the slightest affectation he spoke out of his heart, under a sense of the divine presence and working. How like he is in this to our divine Lord. The presence of God was everything to Christ as it was to Joseph.

Now if you and I set the Lord always before us, if our soul dwells in God, depend upon it—God is with us. There is no mistake about it.2

Charles Spurgeon
Further reading
Endnotes
see STEVEN FURTICK CALLS JOEL OSTEEN GREAT MAN OF GOD and STEVEN FURTICK AS TELEVANGELIST AT LAKEWOOD CHURCH OF JOEL OSTEEN ↩
Charles Spurgeon, At the Master's Feet [Grand Rapids: Zondervan, 2005], December 3 ↩