By Ken Silva pastor-teacher on Feb 17, 2013 in AM Missives, Current Issues, Devotions, Features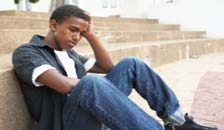 Apprising Ministries reminds you that people will sometimes come up to you and announce: "Well, I've got good news, and I've got bad news."
Many times, the receiver of that initial report will opt to be told the bad news first, which I'll share with you now through this devotion from Charles Spurgeon.
Afterward, I will return and then bring you the Good News:
Then he said, I pray thee therefore, father, that thou wouldest send him to my father's house: For I have five brethren; that he may testify unto them, lest they also come into this place of torment. (Luke 16:27-28)

In imagination—I pray that it may only be in imagination—I see some of you die unsaved.

And I see you as you pass into the next world unpardoned, and your soul realizes, for the first time, what was the experience of the rich man.

Remember, our Saviour said of him, "In hell he lifted up his eyes"—as though he had been asleep for all those years before.

As if he'd only just awakened to his true condition. "He lifted up his eyes" and gazed all around,  But he could not see anything excerpt hopelessness.

He saw he was trapped entirely in things which caused him dismay and horror; there was no trace of joy or hope, no track of of ease or peace.

Then, through the awful gloom, there came the sound of such questions as these:

Where are you, sinner? You were in a house of prayer a few weeks ago, and the preacher urged you to seek the Lord.But you procrastinated.

Where are you now? You said that there was no such place as hell; but what do you say about it now? Where are you?

The Lord in mercy preserve you from all that?

Charles Spurgeon
The good news is, this doesn't have to happen to you. No matter what you may have done, there is repentance and forgiveness of sins for you, in Jesus' Name.
There isn't a sin under the sun that our great God and Savior, Christ Jesus of Nazareth, did not suffer and die for. So, is He reaching to you from the Cross?
If you can hear Him calling, then it's not too late for you. Leave your sin; be done with it because Jesus dealt with it centuries ago, and receive his forgiveness:
Come home! come home!
Ye who are weary, come home!
Earnestly, tenderly, Jesus is calling,
Calling, O sinner, come home!
Further reading