By Ken Silva pastor-teacher on Jan 8, 2013 in AM Missives, Current Issues, Features
UPDATE: LOUIE GIGLIO IS NO HERO TO BE ADMIRED
UPDATE: LOUIE GIGLIO OUT OF OBAMA INAUGURATION OVER "ANTI-GAY COMMENTS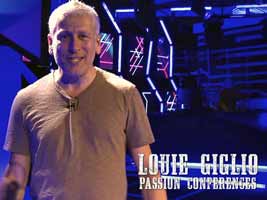 Apprising Ministries is among those online apologetics and discernment ministries (OADM) who have covered Louie Giglio, Passion 2013, And Jesus Culture; Passion 2013 concluded this weekend.
In Friends Of Bethel Church, Home Of Jesus Culture I brought out that this Giglio conference filled the Georgia Dome with some 60,000+ college aged youth, but there may be an agenda to be wary of.
Youth have been raving about how this conference changed their lives, which is the point. That being, what it appears Louie Giglio has done/is doing with his 268 Generation aka the Passion Movement.
For you see, in Jesus Culture—Of Bethel Church—And Practicing Raising The Dead I reminded you that Jesus Culture (JC) bills itself as not "just a band, but…a ministry of Bethel Church (BC)." ((http://www.facebook.com/jesusculture, accessed 1-8-13))

In addition, that BC pastor Bill Johnson surrounds himself, and the BC ministry JC, with a wild assortment of spiritual wingnuts like NAR "Apostle" Lou Engle and "respected prophet" Cindy Jacobs.
I also told you that BC pastor Banning Liebscher, director of JC, calls NAR apostlette Cindy Jacobs "a real mom to our movement" and has "spoken a ton [of prophetic word] into what we're doing."
Did you catch that; JC mommy Jacobs speaks into the Jesus Culture Movement. What it's beginning to look like is that Giglio may have made a conscious decision to align his own youth movement with JC's. 

Here's Louie Giglio on CNN today discussing one of the goals of his movement:
[mejsvideo src="https://www.apprising.org/wp-content/uploads/2013/01/GigCNN.mov" width=640 height=360]
So, it's against this backdrop that we now will look a little further into what these 60.000 young people were being taught at Passion 2013, which they are telling us has made such a change in their lives.
The clip below is:
Chris Rosebrough of Fighting for the Faith [who] takes a discerning look at Louie Giglio's teaching during the final session of Passion 2013 to see if he is rightly handling and teaching God's Word and finds good reasons to be concerned. (source)
Further reading