By Ken Silva pastor-teacher on Dec 30, 2012 in AM Missives, Current Issues, Emergence Christianity, Emergent Church, Features

For the past few years Apprising Ministries has been a leading online apologetics and discernment work covering the now upgraded sinfully ecumenical neo-liberal cult operating within the Emerging Church aka the Emergent Church. The EC 2.0 has now cobbled together its own postmodern form of Progressive Christian theology.
What we're actually dealing with here is a Liberalism 2.0, which these apostates will often refer to as "big tent" Emergence Christianity. Tragically, this theological poison is, right now, seeping into the veins of the mainstream evangelical camp—particularly within its younger sectors.
In Biblical terms, it's leaven introduced into the lump of visible Christendom (cf. Galatians 5:9) circa 2000 e.g. through Living Spiritual Teacher and EC guru Brian McLaren, universalist Emerging Church pastor Doug Pagitt, and his friend Dr. Tony Jones, the progressive "theologian in residence" at Solomon's Porch (SP).
Such a loathsome legacy these spiritually repugnant rebels are leaving. Five years ago in Emerging Church Pastor Doug Pagitt: Post CNN Interview Comments Concerning Dr. John MacArthur I showed you Pagitt mocking MacArthur after their discussion about whether Christians should practice Yoga.
I'm not going to rehash all of that here; suffice to say that MacArthur took the proper Biblical position that Christians should have nothing to do with this practice of pagans. Little surprise, what Pagitt would specifically take issue with was when MacArthur said that if we wish to relieve stress we can turn to the Word of God.
For the interested reader, courtesy of my friend Lane Chaplin, there's a video recap of all of this in my aforementioned article above. Sadly, from having carefully observed his sad slide, I can tell you that Doug Pagitt has now grown quite far away from anything even remotely resembling the Christian faith.
Below CARM gives us a synopsis as to why Christians should not practice Yoga:
The problem is that yoga is religious in nature.  The point of the practice of yoga is to unite oneself with God.  Take this quote from the Yoga Journal: "Connecting the mind, body, and breath helps us to direct our attention inward.

Through this process of inward attention, we learn to recognize our habitual thought patterns without labeling them, judging them, or trying to change them. We become more aware of our experiences from moment to moment.

The awareness that we cultivate is what makes yoga a practice, rather than a task or a goal to be completed. Your body will most likely become much more flexible by doing yoga, and so will your mind."1 As one can see, Yoga is more than just a physical exercise.  We as Christians do not want to make our mind more flexible.  We do not want to leave our mind open to false teaching. (source)
Now that you have this proper perspective I point you to a tweet earlier today by Doug Pagitt:

(source)
Yes, you read that right; Pagitt is advertising a Yoga Sanctuary (YS), which apparently opened this past June: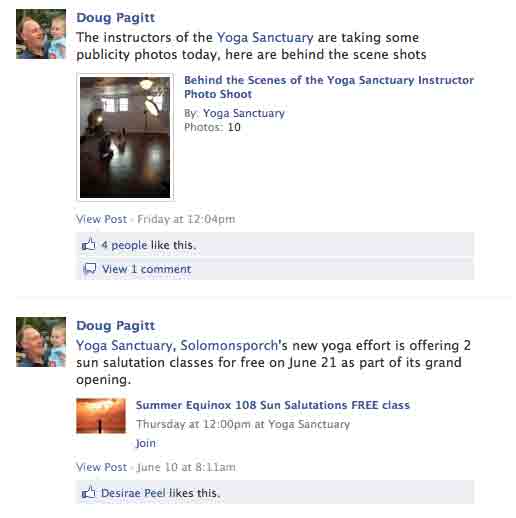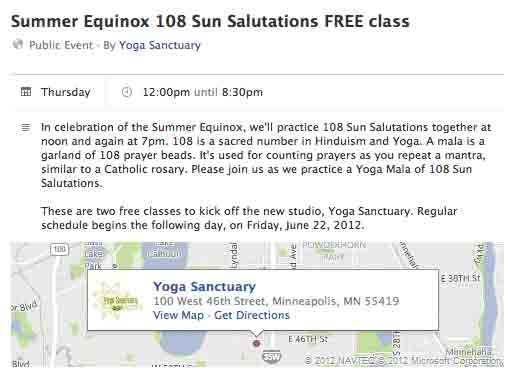 To be clear, YS is in SP's building2 and is actually a part of SP itself:
Yoga Sanctuary is a non-profit, holistic collective, offering a place of respite and integration for your body, mind and spirit owned and operated by Solomon's Porch… Namaste, Shelley, Shirley, Danielle, Peter, Amanda, Pati and Greta (your instructors) (source, bold mine)
Aadil Palkhivala, who began studying yoga at the age of seven and is the Founder-Director of the Alive and Shine Center in Bellevue, Washington and The College of Purna Yoga,3 now explains to us what namaste means:
The gesture Namaste represents the belief that there is a Divine spark within each of us that is located in the heart chakra. The gesture is an acknowledgment of the soul in one by the soul in another. Nama means bow, as means I, and te means you. Therefore,namaste literally means "bow me you" or "I bow to you."…

The teacher initiates Namaste as a symbol of gratitude and respect toward her students and her own teachers and in return invites the students to connect with their lineage, thereby allowing the truth to flow—the truth that we are all one when we live from the heart. (source, emphasis mine)
The Chopra Center of guru of the New Spirituality Deepak Chopra4 then brings the meaning of namaste to its logical conclusion:
Namasté is both a spoken Indian expression and a symbolic gesture that people use when greeting each other or in parting. Pronounced "na-ma-stay," the term derives from Sanskrit and literally means "I bow to you."

It's more commonly translated as "the divine light in me honors the divine light in you" or "the God within me greets the God within you." Namasté is the recognition that we are all equal and share a common divinity. (source, bold mine)
Right here it seems we catch another glimpse at the universalism of Doug Pagitt and his gathering of apostates. His YS also has its own website where we see that the Shelley listed above is Shelley Pagitt, "Natural Health Coach and Curator of Yoga Sanctuary,"5 who happens to be Doug Pagitt's wife:

(source)
As I get set to close this out, for now, I'll tell you the link in Doug Pagitt's tweet above takes us to Find Your Sanctuary at Yoga Sanctuary where we read:
The New Year is a time of reflection, a time of looking at the year past, and looking forward to the year to come… [W]hile we can resolve to take better care of ourselves at any point throughout the year, it is often at this time of year when most of us say we are going to do so.

So, if you are thinking that you want – or need – to take better care of yourself, then you should meet Shelley Pagitt, Natural Health Coach and Curator of Yoga Sanctuary… Solomon's Porch, a Holistic Missional Christian Community, owns Yoga Sanctuary as well as the the quiet building in which it resides.

Yoga Sanctuary was started by one Community member and yoga instructor whose aim was to introduce the benefits of yoga to the Community and beyond.  It made sense for Shelley – and the Community – to step in as the Curator…

As a Natural Health coach, Shelley is a firm believer that yoga plays an important role in taking care of yourself, as she experienced when she discovered yoga after recovering from a major illness. She said that once she started doing yoga, "something opened up,"… (source)
Unfortunately, there's a very real possibility spiritually that, once Pagitt began practicing Yoga, something entered in. Now, it's bad enough for Solomon's Porch to be infecting adults with their pagan practices, but tragically, we're told that they're targeting children as well:
Yoga Sanctuary even offers Kids Hoop Yoga for first through sixth graders. Shelley explains that kids seem to really grasp the yoga benefits of unifying mind, body and spirit, which leads to self-awareness and healthy interpersonal relationships. The kids utilize a hula hoop to learn poses and play yoga games… (source)
We also find out that SP's YS is actually a hardcore Yoga endeavor offering "the traditional yoga classes as well: Vinyasa, Ashtanga, Power Yoga and the like."6 And, so it would seem, something Doug Pagitt wrote a few years ago now really seems to be coming true for him:
The idea that there is a necessary distinction of matter from spirit, or creation from creator, is being reconsidered.7
In other words, all of creation is thought to be divine by rebels against the Word of God like Doug Pagitt because they have come to believe that it's literally part of God Himself. In the damnable mythology of such as these creation is within God just as He supposedly dwells within all things. Leave them, they are blind guides.
The truth is, apart from the Gospel of repentance and forgiveness of sins in Jesus' Name, one is spiritually dead; and God Himself has clearly told us that He does not live within all of mankind:
Those who are in the flesh cannot please God. You, however, are not in the flesh but in the Spirit, if in fact the Spirit of God dwells in you. Anyone who does not have the Spirit of Christ does not belong to him. But if Christ is in you, although the body is dead because of sin, the Spirit is life because of righteousness.

If the Spirit of him who raised Jesus from the dead dwells in you, he who raised Christ Jesus from the dead will also give life to your mortal bodies through his Spirit who dwells in you. So then, brothers, we are debtors, not to the flesh, to live according to the flesh. For if you live according to the flesh you will die, but if by the Spirit you put to death the deeds of the body, you will live.

For all who are led by the Spirit of God are sons of God. For you did not receive the spirit of slavery to fall back into fear, but you have received the Spirit of adoption as sons, by whom we cry, "Abba! Father!" The Spirit himself bears witness with our spirit that we are children of God, and if children, then heirs—heirs of God and fellow heirs with Christ, provided we suffer with him in order that we may also be glorified with him. (Romans 8:8-17)
Further reading
Endnotes