By Ken Silva pastor-teacher on Dec 15, 2012 in AM Missives, Current Issues, Emergence Christianity, Emergent Church, Features, Homosexuality/"Christian"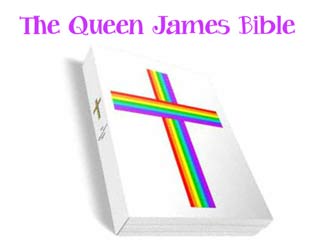 As rapidly apostatizing mainstream evangelicalism continues pursuing its lurid lust for acceptance by unregenerate mankind, pitifully begging for his approval, this online apologetics and discernment ministry (OADM) of Apprising Ministries certainly has no shortage of odd events to cover.
Through evangelicalism's embrace of the Emerging Church aka Emergent Church, which has grown into a full-blown neo-liberal cult operating within its walls, we're seeing doctrinal lines blurred and erased at levels perhaps unprecedented in the history of the Christian church.
Sadly, the mainstream of the Christian community began using the warped and toxic teachings of early EC leaders like Dan Kimball and his friends, the dubious duo of universalist EC pastor Doug Pagitt, and his comrade Dr. Tony Jones, the progressive "theologian in residence" at Solomon's Porch.
Leaders of evangelicals churches would make the fateful decision to use EC fables in their young adult and youth ministries and in "alternative services" on Sunday nights. Unfortunately, by doing so they opened up the door for EC leaders to perpetrate their corrupt Contemplative Spirituality/Mysticism (CSM).
This CSM a la Living Spiritual Teacher and Quaker mystic Richard Foster and his spiritual twin Dallas Willard is nothing more than a repackaged version of the Counter Reformation spirituality, which flowered in the antibiblical monastic traditions of the apostate Roman Catholic Church.
Suffice here to say that Satan's forces use CSM's mind-numbing function to attack the proper Christian spirituality of sola Scriptura. This is how we've gotten to the point where I'd even have to create a section here at Apprising Ministries for me to cover the oxymoronic Homosexuality/"Christian."
As I just told you in Emergence Apostate Doug Pagitt Interviews Gay Affirming "Pastor" Jay Bakker the other day, Jay Bakker—pastor of Revolution:NYC—is tip-of-the-spear for one of the pet projects of the EC, which is their aggressive pro-homosexual attack upon proper biblical Christianity.
You need to know that Bakker's main shtick for the EC is his mission to continue pushing hard for acceptance within mainstream evangelicalism that the deviant and sinful lifestyle of having sexual relations with another of the same sex, i.e homosexuality, is also a viable one for the regenerated Christian.
Now you have the necessary information to understand why I have to alert you to something called The Queen James Bible (QJB) even though you might be tempted to ignore that work as silly satire. I can assure you that this is not satire as indicated by its own website ((http://queenjamesbible.com, accessed 12-15-12.)) and that fact that it's for sale at Amazon:

(source)
Note QJB claims it was written by God with Jesus as contributor; however, neither had anything to do with this adulteration of Holy Scripture. The book description, dated November 27th, 2012, says:
A Gay Bible

The Queen James Bible is based on The King James Bible, edited to prevent homophobic misinterpretation.

Homosexuality in The Bible
Homosexuality was first mentioned in the Bible in 1946, in the Revised Standard Version. There is no mention of or reference to homosexuality in any Bible prior to this – only interpretations have been made. Anti-LGBT Bible interpretations commonly cite only eight verses in the Bible that they interpret to mean homosexuality is a sin; Eight verses in a book of thousands!

The Queen James Bible seeks to resolve interpretive ambiguity in the Bible as it pertains to homosexuality: We edited those eight verses in a way that makes homophobic interpretations impossible. (source)
We also have this December 14th post about the QJB by Andrew Gems entitled The Queen James Bible over at Episcopal Cafe as well. So, despite its being edited to reflect what I'd call a heterophobic interpretation, the QJB is a serious endeavor. Indeed, it is a serious matter to alter God's Word as has been done here.
This story begins with a press release on December 12 at PR Web called New Gay Bible Prevents Homophobic Misinterpretation of Key Verses; Titled The Queen James Bible attributed to:

(source)
I've called the contact number for Rev. Pearson a couple of times as of this writing but the call hasn't been returned; I've also emailed Pearson as well, but have not heard back at this time. The number takes us to Holy Innocents Episcopal Church (HIEC) in San Francisco. While at HIEC's website I did a search for J. Pearson.
Unfortunately, I don't find any reference to this person there. Leaving this aside, on December 13th Scott Roberts of Pink News, "Europe's Largest Gay New Service," announced San Francisco: Gay-friendly 'Queen James' Bible launched. He told us:
A San Francisco Episcopal minister has launched what's been described as a new "Gay Bible". Reverend Pearson of San Francisco's Holy Innocents Church claims the traditional bible made no mention of homosexuality until 1946. (source)
Resisting the urge to wrestle with the serpent here, let me just say that while the exact word homosexuality itself may not have appeared, the condemnation of same-sex sexual relations was most certainly mentioned in Holy Scripture. Even Roberts himself noted:
However, same-sex behaviour is condemned from as far back as 1,312 BC (when Orthodx Judaism says the Torah was delivered on Mount Sanai). The King James Bible translation of the prohibition found in Leviticus 18:22 states: "Thou shalt not lie with mankind, as with womankind: it is abomination." (source)
That's pretty clear; and BC (before Christ) is a few years before 1949. As Christian apologist Matt Slick adds:
Clearly, the Old Testament condemns homosexuality.  What else does it mean when it says "you shall not lie with a male as one lies with a female"?  The term "lie with" here refers to sexual intercourse in the phrase "lie with a male as one lies with a female."…

There can be no doubt that the Old Testament condemns homosexuality as a detestable act worthy of death…  Of course, the Old Testament Law is no longer in effect in this area because the Messiah has come and we are not under a theocratic governmental system.  Therefore, we are not to execute homosexuals.

We are to pray for them and their repentance so they might find salvation in Christ. (source)
Returning to the QJB itself, in Episcopal minister launches gay-friendly 'Queen James Bible' Angela Harris of Digital Journal tells us:
The King James edition is the most popular translation of the Bible. The editors of the Queen James Bible describe the language of the KGV as "poetic, traditional, and ceremonial."

 This edition got its title from the nickname of King James I. It may surprise some Christians to learn that although married, King James was a known bisexual and dubbed "Queen James" by friends and members of his court because of his sexual relationships with men.

"The Queen James Bible was named in tribute to King James, for what he did for the Bible, and for living openly in gay relationships," say the editors. (

source

)
Historians debate this so it's hardly an established fact. As was pointed out elsewhere:
if the king were, in fact, gay, then why would he allow his translated Bible to point out that homosexuality is in fact a sin? (source)
Harris also brings out that the QJB is specifically designed as:
a new edition of the Bible for gay Christians…[which] aims to clarify Biblical views on homosexuality. (source)
Christian Post Reporter Michael Gryboski then tells us in Recently Released 'Queen James' Purports to Be First-Ever 'Gay Bible' that publishers of the QJB:
argued in a statement that it accurately translates certain verses pertaining to homosexuality, which have been misunderstood by religious conservatives. (source)
No, those verses have been misunderstood by classic liberalism; and what "The Editors" of the QJB have actually done is to insert those views right into the text itself. For example, liberal theology has held abomination (to'ebah) is a religious term, usually reserved for use against idolatry and refers to temple prostitution.
So here's how Leviticus 18:22 reads under Editor's Notes at the QJB website:
Thou shalt not lie with mankind as with womankind in the temple of Molech: it is an abomination. (source)
While the words "in the temple of Molech" do not appear in the original Hebrew, they do happen to agree with the perverted pro-homosexual position. The Editors of the QJB are critical of "Anti-LGBT Bible interpretations," but theirs is not a translation at all. Rather, the QJB is an interpolation; in other words a violation of God's Word.
As such, it is to be roundly rejected:
You shall not add to the word that I command you, nor take from it, that you may keep the commandments of the LORD your God that I command you. (Deuteronomy 4:2)

Every word of God proves true; he is a shield to those who take refuge in him. Do not add to his words, lest he rebuke you and you be found a liar. (Proverbs 30:5-6)

I warn everyone who hears the words of the prophecy of this book: if anyone adds to them, God will add to him the plagues described in this book, and if anyone takes away from the words of the book of this prophecy, God will take away his share in the tree of life and in the holy city, which are described in this book. (Revelation 22:18-19)
In closing this, for now, I've have yet to receive an answer to my phone calls and email attempting to reach this Rev. J Pearson. One of the critical questions I have is this: Who are The Editors? It would seem to me that if you're going to presume to translate God's Word, then we have a right to examine your credentials to do so.
Further reading