By Ken Silva pastor-teacher on Nov 6, 2012 in AM Missives, Current Issues, Features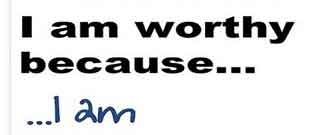 Not according to our Creator, the LORD God Almighty, Who said:
in his heart, "I will never again curse the ground because of man, for the intention of man's heart is evil from his youth. Neither will I ever again strike down every living creature as I have done. (Genesis 8:21)
During His teaching about the importance of persistence in prayer and the incredible Gift of the Holy Spirit Christ Jesus of Nazareth—the LORD God Himself in human flesh—asks the following question:
"Which of you, if his son asks for bread, will give him a stone? Or if he asks for a fish, will give him a snake?" (Matthew 7:9-10)
Now let's note carefully what our Creator says next — "You, most wonderful people are simply trapped behind your false self and need to discover your 'sacred call to self-discovery' and the precious 'gift of positive I Ams.'"
No! Our Lord says:
"If you, then, though you are evil, know how to give good gifts to your children, how much more will Your Father in Heaven give good gifts to those who ask Him!" (Matthew 7:11)
Did catch that? Jesus says, "your Father," so these are His Own disciples He's talking to here. However, man-pleasers like Word Faith prosperity preacher Joel Osteen, a la 2 Timothy 4:3-4, have a different message.
The following is an exclusive video clip from Osteen's recent appearance on Oprah Winfrey's Lifeclass. It's taken from Pastor Joel Osteen Helps a Woman Feel Worthy and concerns Lifeclass audience member Michelle.
Without any reference at all to a relationship with God through Jesus Christ, supposed Christian pastor Joel Osteen and the unbelieving Oprah Winfrey, tell Michelle she's already a worthy child of God:
[mejsvideo src="https://www.apprising.org/wp-content/uploads/2012/11/OsteenWorthy.mov" width=640 height=360]
In stark contrast to Osteen's patented hybrid WF/Robert Schuller mythology, while discussing the resurrection during His time on earth, Jesus would clearly explain to us:
but those who are considered worthy to attain to that age and to the resurrection from the dead neither marry nor are given in marriage. (Luke 20:35)
Logic tells you that there are also those who're not considered worthy to attain to that age. God the Holy Spirit also most clearly tells us:
as it is written: "None is righteous, no, not one; no one understands; no one seeks for God. All have turned aside; together they have become worthless; no one does good, not even one." (Romans 3:10-12)
Therefore, since Christ Himself says those who enter heaven must be considered worthy, and our Lord then informs us that mankind as a whole is worthless, the question that must now be raised is:
How then could worthless man ever be considered worthy?
Praise be to our Great God and Savior:
but God shows his love for us in that while we were still sinners, Christ died for us. Since, therefore, we have now been justified by his blood, much more shall we be saved by him from the wrath of God. 

For if while we were enemies we were reconciled to God by the death of his Son, much more, now that we are reconciled, shall we be saved by his life. More than that, we also rejoice in God through our Lord Jesus Christ, through whom we have now received reconciliation. 
(Romans 5:8-11)
Yet those who embrace apostate Roman Catholicism as a legitimate form of Christianity, with its corrupt Contemplative Spirituality/Mysticism still insist men can be saved apart from God's grace alone; through faith alone; in Christ alone.
Today I admonish you in the Lord not to believe that lie, and to instead consider giving yourself to the mission field in reaching those who have not heard the true Gospel of Jesus Christ; before it's too late. Jesus says:
When he saw the crowds, he had compassion for them, because they were harassed and helpless, like sheep without a shepherd. Then he said to his disciples, "The harvest is plentiful, but the laborers are few." (Matthew 9:36-37)
O yes Lord, send forth Thy laborers, in Jesus Name, amen.
Further reading