By Ken Silva pastor-teacher on Oct 7, 2012 in Current Issues, Features, T.D. Jakes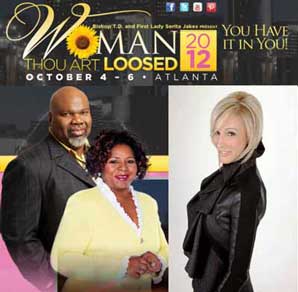 Christian Research Network is a sister work of Apprising Ministries. In Rick Warren, Joel Osteen To Appear On Oprah's 'Lifeclass CRN Associate Editor Erin Benziger of Do Not Be Surprised… brings to our attention that Robert Schueller disciples of human potential teaching Joel Osteen and Rick Warren recently joined Oprah Winfrey.
Well, as you'll find out in Elephant Room 2's T.D. Jakes, Pastrix Paula White & His Upcoming Women Thou Art Loosed Conference ER 2 veteran and Word Faith mogul T.D. Jakes has already been there, done that. As you can see below in this exclusive clip from his appearance, Jakes' message is essentially the same regurgitated Robert Schullerism's as those I just mentioned:
[mejsvideo src="https://www.apprising.org/wp-content/uploads/2012/07/Jakes-1.mp4″ width=640 height=360]
Benziger now gives us another pathetic example of the message of human potential being passed off as authentic Christianity. Now consider T.D. Jakes has been embraced by men who ought to know better such as James MacDonald and his ER co-host Mark Driscoll:
T.D. Jakes' Woman, Thou Art Loosed conference (WTAL) kicked off yesterday in Atlanta. The Christian Post shares some details from the first message delivered by Jakes to a stadium full of 25,000 women:

"But I'm going to tell you something tonight. Believing in God is not enough because I also want to remind you that the Bible said the demons believe and tremble. The second area of belief is critical and this is an area where even Christian believers are often attacked," he continued.

"We do good in believing in God. Some of us were raised believing in God and if you got that part real good the enemy comes along and tries to destroy the ability to believe in yourself. He will show you all kinds of reasons to make you think that you don't have it … He is always throwing up something in your face to get you not to believe in yourself."

Jakes is correct, even the demons affirm the existence and deity of God. Demons, in fact, likely are more orthodox in their doctrine than today's typical Word Faith preacher! However, though they know the intellectual truth about the triune God, they revile it.

What, then, is implied in this verse alluded to by Jakes? Is it that belief in God is not enough and one must also believe in himself? An examination of the broader context reveals that this is not the case:

You believe that God is one; you do well. Even the demons believe—and shudder! Do you want to be shown, you foolish person, that faith apart from works is useless? Was not Abraham our father justified by works when he offered up his son Isaac on the altar? You see that faith was active along with his works, and faith was completed by his works; and the Scripture was fulfilled that says, "Abraham believed God, and it was counted to him as righteousness"—and he was called a friend of God. You see that a person is justified by works and not by faith alone. And in the same way was not also Rahab the prostitute justified by works when she received the messengers and sent them out by another way? For as the body apart from the spirit is dead, so also faith apart from works is dead. JAS. 2:19–26

Nowhere in these verses do we see the idea of "believing in oneself." Rather, James reminds here that true, saving faith does not end with intellectual assent to the truth, but will manifest itself in works. These works are not performed as a means of earning one's salvation, but rather are a result of salvation by grace through faith in Jesus Christ alone. T.D. Jakes has falsely represented this biblical text.

The Christian Post article continues:

Turning from what he says are the devil's plans to "destroy the ability to believe in oneself," Jakes then explained the part of the spiritual equation that includes the individual by emphasizing "I" in a well- known Bible verse.

"Let me back that up with the Bible. Paul said, 'I can do all things through Christ which strengthens me,' Jakes exalted the women, many standing and receiving his message with arms raised.

The Bible verse Jakes is using to "back up" his statement is Philippians 4:13, and the emphasis in the verse certainly is not on Paul's "I."

Not that I am speaking of being in need, for I have learned in whatever situation I am to be content. I know how to be brought low, and I know how to abound. In any and every circumstance, I have learned the secret of facing plenty and hunger, abundance and need. I can do all things through him who strengthens me. PHIL. 4:11–13

The Apostle Paul is here speaking about contentment. Christ lives within him, and because of this, through Christ, he can rely on a supernatural, divine strength for every situation. Though T.D. Jakes would like to elevate man through this verse, in reality, Paul intends to elevate God. Only by full and utter dependence on Christ can the Christian remain content in whatever situation, whether pleasant or pitiful.

It appears as though T.D. Jakes is teaching the idea of self-confidence, self-esteem and even pride. Yet, the Bible does not speak favorably of these things. Instead, God's Word would condemn such ideas as sin. Says Dr. John MacArthur:

One of the popular lies of our culture, if not the dominating popular lie of our culture, and it's an old one, is that man is basically good and that not only is man good generically, but you as an individual are more than good, you're great. You're more than great, you're wonderful and you need to recognize that because all your power in life resides in your self-esteem and all your influence in life and your ability to achieve great things lies in the power of your self-confidence. And people who fail, and people who struggle are people who lack the power of self-esteem, and the power of self-confidence. Your precious little children from the time they arrive in public school in this country will be taught that…that power resides in them, and goodness resides in them, and greatness resides in them, and achievement is simply a matter of trusting yourself, and loving yourself, and esteeming yourself, and putting confidence in yourself, and not letting anybody diminish that.

Mark it down, self-esteem, self-confidence, personal pride is sin. It is an evidence of corruption. It is the very arrow point of sin. It's where sin starts, with pride. You can't re-label it as a virtue, without deceiving everyone.

Once again, then, it seems that T.D. Jakes has propagated a false, man-centered message that detracts and distorts the true Gospel of Jesus Christ. The WTAL conference continues through tomorrow, so just as this was not his first such message, it seems likely that it also will not be his last.