By Ken Silva pastor-teacher on Aug 22, 2012 in Current Issues, Features, Rob Bell

Apprising Ministries had long covered the false teaching of former icon of the Emerging Church, and now TV producer, Rob Bell. You might recall a little over a year ago he openly revealed his Love Wins mythology.
Shortly afterward Bell would depart from Mars Hill Bible Church. He would be replaced by his good friend, and fellow heretic, Shane Hipps. Then last May in Dear Mars Hill Hipps announced he would be leaving as well.
Tonight I spoke on the phone with Fox 17 Web Producer Jonathan Seely and he is reporting:
Kent Dobson, son of Ed Dobson, who led Grand Rapids-based mega-church Calvary Church for a number of years, has been selected as the church's new Teaching Pastor.

He's to be formally introduced to the community September 9 at 9 and 11 a.m. services. (source)
Here's what the MHBC elders had to say: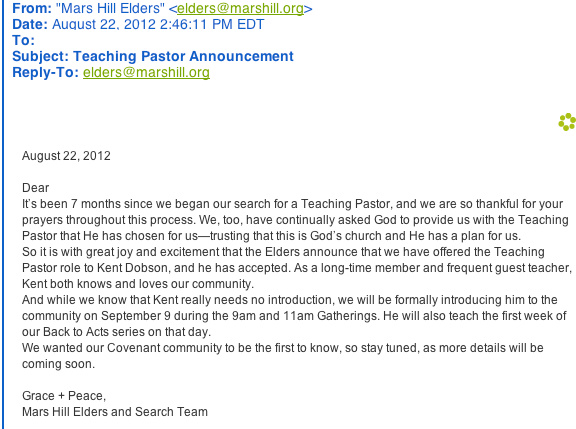 Now in Months after Rob Bell left, Mars Hill Bible Church names another well-known religious leader as lead pastor Heidi Fenton of MLive adds:
Mars Hill Bible Church has appointed a new teaching pastor, months after founding pastor and well-known author Rob Bell departed for California. In an email sent Wednesday to members of the Grandville church, leaders announced Kent Dobson had accepted the lead position.

Dobson served as a worship director in the church's early days and has preached as a guest speaker in months since Bell left. He is the son of Ed Dobson, pastor emeritus at Calvary Church on East Beltline Avenue. (source)
Further reading