By Ken Silva pastor-teacher on Aug 19, 2012 in Current Issues, Features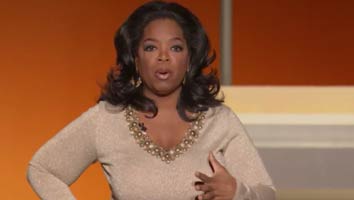 As Apprising Ministries monitors the Net and social media one of the trends I'm seeing is postmodernism's effects slithering more deeply into the professing Christian community. Combined with the sappy sentimentality spread by practice of Contemplative Spirituality/Mysticism people are now deciding issues by their feelings.
My point being, it simply doesn't matter one iota how we may feel about a given subject; it's truth or falsehood is based upon factuality, not feelings. A case in point right now is Oprah Winfrey. Once again people are becoming convinced that the media mogul is a Christian. As a matter of fact, Winfrey even makes that claim herself.
The clip below is from Spiritual Lives – Oprahs Lifeclass a few months ago on April 24th 2012. At 0:26 you'll hear Winfrey say, "I am a Christian; that is my faith," and also says that she can show us how to be one:
[mejsvideo src="https://www.apprising.org/wp-content/uploads/2012/05/Oprah-Winfrey-Makes-The-Claim-2-B-Christian-4-24-12.mp4″ width=640 height=360]
You can also see Winfrey's tolerant statement, "I respect for all faiths" was a real crowd pleaser. Of course we respect people of other faiths but with such as those like Oprah Winfrey those religions are actually irrelevant because, in their warped and toxic perceptions, the New Spirituality they espouse transcends these faiths.
We get another glimpse of this just today as Winfrey was asked via Twitter, "isn't the divine in us with the Holy Spirit. I believe Holy Spirit always dwells [in] us we can choose to acknowledge it or not." First of all, notice here that God the Holy Spirit is not a Person; but rather, an impersonal force which animates life.
Secondly, we have the mystic delusion that God already indwells every human being. Not surprisingly, as you'll see from her response, this is Winfrey's belief as well:

(source)
This is completely in line with the New Age or New Spirituality of Winfrey Lifeclass instructor Living Spiritual Teacher Deepak Chopra. Sadly, it's also consistent with the new postmodern version of Progressive Christian theology of the Emergent Church under their spiritual circus "big tent" Emergence Christianity.
In this tent we find people like Jim Wallis, Living Spiritual Teacher and Emergent Church guru Brian McLaren, universalist Roman Catholic mystic Richard Rohr, gay-affirming "pastor" Jay Bakker, self-professed "queer inclusive" ELCA pastrix Nadia Bolz-Weber, and the Empress of Emergence Phyllis Tickle.
As a matter of fact, McLaren began laying out this Emergence theology in his book A New Kind of Christianity. Within he told us he was drawing much of it from a book by liberal theologian Harvey Cox called The Future of Faith. Notice Deepak Chopra himself highly endorses Cox' mythology as well:
This important book has not only helped me understand the past, present, future of this amazing phenomenon called Christianity . . . it has also motivated me to keep working to help make actual the possible future Cox envisions.
—Brian McLaren, author of A New Kind of Christian

Cox brings the eye of an historian and the heart of a theologian to explain where we've come from and where we're going. The Future of Faith is an essential guide to that future.
—Jim Wallis, president of Sojourners and author of The Great Awakening

Harvey Cox has been a voice of both reason and faith in our cynical times. Now, he offers a fresh vision for the resurrection of a new global Christianity that will restore our faith both in ourselves and in the divine.
—Deepak Chopra, author of Jesus: A Story of Enlightenment
For progressive Christians like McLaren "'Christ' is the Christian name for the logos of God in all of creation, including all religions."1 Like Winfrey and Chopra they believe God is in all so people are to be encouraged "to consider and to appropriate" the teachings of Jesus "according to the light of the divine in their lives."
According to this progressive fable as people in any religion walk according to the light of the divine they then are following the teachings of Jesus. While discussing the Apostle John's use of logos in chapter one of his Gospel Shane Hipps put it this way in his sermon Wind In The Sail:
he desperately wants us to experience the wind…the logos…that animating, creative life force that gives you breath right now in this very moment. That's what John'll be pointing us to, so as we go through this series, that's what we're going to be experiencing and exploring is this whole thing of the logos becoming flesh, and the difference between our…how we operate in the world and how God animates everything that is in the world.

And that's why it says, "It was the life and light of all people." It didn't say the light and life of the people who believe in Jesus. This logos affects everybody including Osama bin Laden, as long as he's got breath, in him, is a spark of the divine. (source)
Hipps' friend Rob Bell simply took this idea to its logical conclusion with the Christian Universalism he argues for as his Love Wins mythology. If God already dwells within each human being we've negated the need for regeneration; then since all men have a spark of the divine, they will all eventually dwell with God in heaven.
But the idea of God already dwelling within all mankind isn't true. It is written:
Those who are in the flesh cannot please God. You, however, are not in the flesh but in the Spirit,if in fact the Spirit of God dwells in you. Anyone who does not have the Spirit of Christ does not belong to him. But if Christ is in you, although the body is dead because of sin, the Spirit is life because of righteousness.

If the Spirit of him who raised Jesus from the dead dwells in you, he who raised Christ Jesus from the dead will also give life to your mortal bodies through his Spirit who dwells in you.
So then, brothers, we are debtors, not to the flesh, to live according to the flesh. (Romans 8:8-12)
Quite obviously not everyone has the Spirit of Christ, the Spirit of him who raised Jesus from the dead dwelling in them. What is more — Anyone who does not have the Spirit of Christ does not belong to him. In other words, they remain in the flesh. Let's stop right here and ask a critical question: What does in the flesh actually mean?
You see, our sinful human nature is housed within our body—the flesh—all of it is wrapped up together with our heart; our inner man. The absolute truth is, the doctrine of original sin shows we are absolutely powerless on our own to harness the flesh and that's what leads us to consistently keep rebelling against our loving Creator.
The LORD God plainly tells us about mankind's true nature apart from Christ — the intention of man's heart is evil from his youth (Genesis 8:21). Perfectly in line with what Jesus Himself said:
For from within, out of the heart of man, come evil thoughts, sexual immorality, theft, murder, adultery, coveting, wickedness, deceit, sensuality, envy, slander, pride, foolishness. All these evil things come from within, and they defile a person." (Mark 7:21-23)
Under the direct inspiration of the Holy Spirit the Apostle Paul told us:
For I know that nothing good dwells in me, that is, in my flesh. For I have the desire to do what is right, but not the ability to carry it out…. Wretched man that I am! (Romans 7:18, 24)
Since Jesus informs us — No one is good except God alone (Mark 10:18), the Holy Spirit is telling us He does not indwell those in the flesh; those not born again. Those who are deluded by the New Spirituality like Oprah Winfrey, as well as Emergent so-called progressive Christians, are actually denying the need for regeneration.
This type of false teaching is also spreading throughout the mainstream of evangelicalism because of its lust affair with corrupt Counter Reformation contemplative spirituality; most particularly its crown jewel, which is a form of meditation in an altered state of consciousness commonly known as Contemplative/Centering Prayer.
We must first remind these people of the initial message of the Gospel of Jesus Christ. We would call this the other side of the Good News; without which the preaching of the Gospel really doesn't make any sense — For the wages of sin is death (Romans 6:23). This is talking about spiritual death; i.e. no relationship with God.
In John 3:18 Jesus says — "Whoever believes in [Me] is not condemned, but whoever does not believe is condemned already, because he has not believed in the name of the only Son of God." So maybe now you can better understand what God the Holy Spirit was talking about through Paul above.
The truth is, in our fallen human condition we are literally condemned to sin against God, with no ability whatsoever on our own to stop. God's Word says — Whoever believes in the Son has eternal life; whoever does not obey the Son shall not see life, but the wrath of God remains on him (John 3:36).
Can you see, the condemnation of God and His wrath is already upon everyone who rejects God's only provision for the forgiveness of sins; this would be the sacrificial death on the Cross of the Lord Jesus Christ. And I think we are safe in saying that one doesn't feel wrath toward someone you are pleased with.
Let me ask you: Does this trouble you; do you find yourself stirred up, maybe even somewhat confused inside? Is your heart beating a little faster now because this doesn't sound like the "gospel" of the mystic mush god, the one with a man-shaped hole in his/her/its heart, that you so often hear about today.
As you'll see below, you wouldn't be the first; and there is hope:
Jesus answered them, "Do not grumble among yourselves. No one can come to me unless the Father who sent me draws him. And I will raise him up on the last day. It is written in the Prophets, 'And they will all be taught by God.' Everyone who has heard and learned from the Father comes to me—not that anyone has seen the Father except he who is from God; he has seen the Father. Truly, truly, I say to you, whoever believes has eternal life." (John 6:43-47)
For you see, to answer the call to come to Christ Jesus is the most all-important situation you'll ever have to face; and it's one that you alone have to deal with. So is He calling to you right now; then, what are you going to do?
Further reading
Endnotes
Delwin Brown, What Does a Progressive Christian Believe? [New York: Seabury Books, 2008], 38. ↩