By Ken Silva pastor-teacher on Aug 15, 2012 in AM Missives, Current Issues, Features
As a reader of Apprising Ministries you may know that for years I was given the privilege to serve God as a head football coach at the middle school, and then later, at the high school level.
It was a time where the Lord brought an exceptional group of young men to play on those teams. I saw God bring some of them to Christ so I know what a teaching vehicle the game can be.
That noted, I followed the Tim Tebow phenomenon with much interest as it developed last year. Now I wouldn't necessarily do all the things he does, but he did appear to be sincere in his Christian faith.
I was glad to see Tim Tebow Cancels Speech at Event Organized by Prosperity Gospel Preacher. Incidentally, the heretic happened to be one Rod Parsley, whom prophet-leader Steven Furtick is so enamored with: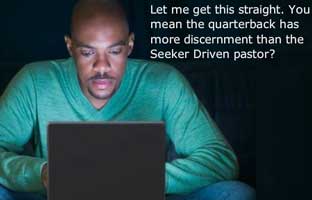 Yep, that's right. So that's why Tim Tebow 'Jesus' pose in GQ stirs controversy on sports radio by Fox News (FN) concerns me. We're told:
Wherever Tim Tebow goes, controversy seems to follow. And now that includes the cover of GQ. The magazine's NFL kickoff issue features Tebow on the cover,… [Then in] a photo inside,… Tebow looks like he's posing shirtless as Jesus Christ on the cross, legs crossed and arms outstretched, (source)
You can see that photo for yourself at the top of this piece above. As I see it, it's pretty clear that the writer of this FN report, who's likely not a believer, is interpreting the pose correctly.
Then we're told "Craig Carton, host of the WFAN sports radio show in New York City," where Tebow now plays for the Jets would use the picture to fan up the flames of controversy.
Now to be clear, as Christian Post points out in Tim Tebow Chided on His Birthday for Posing as 'Sexy Jesus':
Though featured in the newest issue of GQ magazine, the photo in question was taken earlier when Tebow was quarterback for the Florida Gators in college. (source)
FN adds:
The photo from that article has been digitally altered in the current issue of GQ to take out the Gators signage that was visible in the original pic, and also changed from a color photo to black and white, so that Tebow's bright blue Gators football pants would not be so noticeable (his current team, the Jets, wear green). (source)
Tim Tebow, welcome to New York, as Carlton apparently opined that Tebow is:
a "narcisist" and a "fraud," and calling him "sexy Jesus." "He gets it, he plays the role," Carton said. "He's typically very, very sincere and very, very consistent about who he is and what his beliefs are. You just saw a little inkling into what he thinks of himself." (source)
Since none of us is perfect, there's a couple of things here we'd do well to keep in mind. Being a younger man then, perhaps Tebow didn't exactly realize what he was being asked to do.
We weren't there and don't know what the photographer said to him. Nor do we know what kind of a release may have been signed as to how that picture could also be used in the future.
That said, what we do know is this is now bringing shame upon the Name of Jesus Christ as it's being used to mock, not only Tim Tebow himself, but also the faith of this professing Christian.
Let's be praying that, as he did with the Parsley situation, Tim Tebow will repent of things like this in the future.
Further reading