By Ken Silva pastor-teacher on Jul 6, 2012 in Current Issues, Features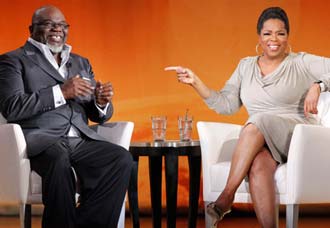 Already known fondly in evangelical circles as "the Bishop," Word faith prosperity preacher T.D. Jakes was given the right hand of fellowship by Elephant Room 2.
This despite evidence showing Jakes has not repented of his heresy; Oprah Winfrey's Lifeclass, Super Soul Sunday & Elephant Room 2's T.D. Jakes being the latest example.
Below is the segment of the July 3rd Fighting for the Faith program of Christian apologist Chris Rosebrough where he discusses the message Jakes gave at Oprah's Lifeclass in Toronto.
Like Rosebrough brings out concerning Jakes:
Rather than being effective as a representative of Jesus Christ, and proclaiming repentance and the forgiveness of sins—to a group of people who truly need to hear it—he was busy doing something else…

What has happened to Christianity that men like T.D. Jakes are, somehow, ambassadors for Christianity?

[mejsaudio src="https://www.apprising.org/wp-content/uploads/2012/07/F4F-Jakes-1.mp3″]
Further reading