By Ken Silva pastor-teacher on Jul 3, 2012 in Current Issues, Features, Rick Warren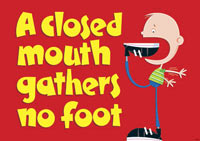 Apprising Ministries brings you yet another tweet today to exchange feet from sinfully ecumenical Southern Baptist megapastor Rick Warren:

(source)
Uh-huh; well, I say:
If self-appointed church leaders claiming to mentor young leaders truly had that calling from Jesus, they'd see their own arrogance that others see. Mt. 7:5

In addition, a real church leader in the largest Protestant denomination in the United States would not turn his back on his brothers who were martyred to embrace the apostate Roman Catholic Church.

An organization which has anathematized the very Gospel Rick Warren claims to preach as a Kuyper-Calvinist and monergist.
Further reading